Fraco Involved in an Innovative and Cost-Effective Bridge Concept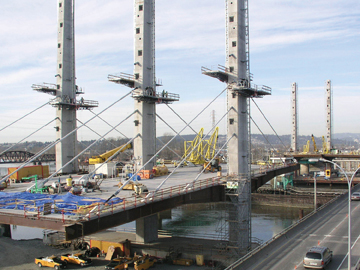 Fraco mast climbing platforms have been selected as the preferred access system for the Pitt River Bridge project located in Pitt Meadows, British Columbia. The project is part of a $198 million infrastructure investment which will allow for the elimination of the current counterflow system. The Pitt River Crossing is part of a long-term initiative to improve highways in Greater Vancouver.
The new infrastructure consists of a cable-stayed bridge that will offer eight traffic lanes. It will also provide up to 16 m of vertical marine clearance, as well as providing facilities for cyclists and pedestrians. The bridge has been designed with six pillars that will hold 96 cables. Bridge construction began in 2007.
General contractor Peter Kewit Sons, Co. was looking for an access system to allow the installation and tension adjustment of cables on each column. ABC Fraco Inc., a subsidiary of Fraco Products Ltd, offered an innovative solution with its proposition of twelve ACT-8 units. "From the beginning, we knew that ACT-8 platforms were the perfect answer to the challenge of accessing each cable level of pillars", mentioned François Villeneuve, executive vice president at Fraco Products.
Unfortunately, it was impossible to surround each column with Fraco's regular accessories. In order to allow workers to install and adjust the cables' tension, Fraco developed a fully adjustable drawer extension which can be mounted on regular ACT-8 units. "The idea was to find a way to access each cable face of pillars and still being able to move the platform up and down in a short period of time. The drawer platform can be quickly extended and retracted on demand each time a cable needs to be installed or adjusted. The drawer can also move laterally in order to adapt to the taper shape of each pillar", explains Mr. Villeneuve.
Naturally, with an elevation speed of 11,6 m/min, the ACT-8 unit provides a huge benefit to the contractor since there is a lot of vertical movement on each 40 m column. Platforms can be accessed from the base of each column and workers are ready to work in few minutes. Drawers' operation is easy and safe as the overall Fraco platform. All ACT-8 units have been installed in October 2008. At the beginning of May 2009, only few cables remained to be installed.
Fraco is a Canadian-based manufacturer of mast climbing access systems. The company offers solutions to specific construction markets such as bridges and dams, glazing and masonry. It has also recently been involved in several chimney demolition projects. Fraco has a wide distribution network in North America, Europe, Middle East and Asia.
Source: Fraco Products Ltd,
1-800-267-0094