First Hybrid Truck for Use in Propane Delivery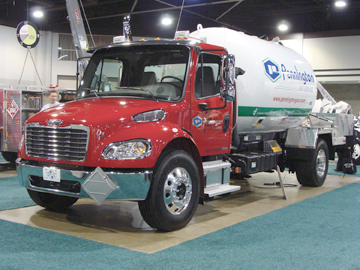 Together with Eaton Corp., Daimler Trucks North America has developed the first hybrid truck for use in hazardous material transport. The truck in question is a Freightliner Business Class M2e equipped with a hybrid electric drivetrain system. It was developed for Pennington Gas Service, which specializes in delivering propane gas primarily to customers in Michigan, Ohio, and Indiana. It marks the first time a Freightliner hybrid truck will be used for a hazardous material delivery application.
A longtime proponent of environmentally friendly transport solutions, company partner Keith Pennington became interested in the hybrid version of the Freightliner Business Class only recently, after test driving one last March at The Work Truck Show in Chicago, Illinois. The vehicle's visibility, maneuverability, and comfort were some of the key features that caught Pennington's attention.
Pennington Gas Service's new showcase truck is equipped with the Eaton parallel electric hybrid system, which enables the driver to operate the vehicle using the diesel engine alone, or in combination with the electric motor. The hybrid drive system also provides additional power to launch the truck, which substantially reduces fuel consumption. This is a key purchasing criterion in a sector with a high level of stop-and-go operations.
Keith Pennington anticipates that the new vehicle will reduce fuel consumption and emissions by as much as 30%. "The ability to turn off the diesel engine and use the hybrid system while pumping propane to our customers is ideal," he said. Not only does it make economical and environmental sense, a quiet, zero-emissions pumping operation is also a benefit for the customers and their neighborhoods.
To receive immediate feedback on how the hybrid system performs on the road, Daimler Trucks North America and Pennington Gas have partnered with Telogis, a leading provider of enterprise fleet tracking software.
Source: Daimler AG