Poclain Hydraulics' AddiDrive Used on the Largest Truck-Mounted Concrete Pump in the World!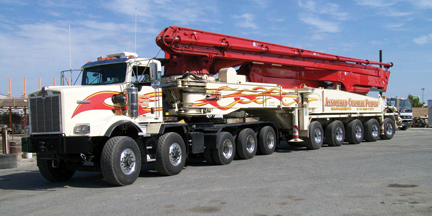 To comply with the legal regulations in certain U.S. states, Putzmeister has mounted the large-boom concrete pump M 70-5 on a 10-axle semi-trailer. The boom, base structure with support, outriggers, pump unit and independent power plant (450 hp Deutz Tier 3 diesel) are located on the semi-trailer and of the five axles, three are steered. The tractor used on this version is a 500 hp Kenworth C500B. Of the five axles on the tractor, the three rear axles are mechanically driven and the two steer axles are hydrostatically driven (for slow speed over rough terrain or in poor traction conditions).
When a driver needs to go off-road or travel in bad weather, the front wheel drive is available on-demand for additional traction and mobility. This system was a joint development between Poclain Hydraulics, Tuthill, Monroe Truck and Putzmeister.
The result of this cooperative effort is based on sound field proven hydraulic technology. The hydraulic system was designed for simple installation, versus that of a commonly used drive-shaft and transfer case system. The hydraulic part of this hub is so compact that it is hardly noticeable once assembled. In fact the OEM steer angle and turn radius are maintained as are the suspension and ride comfort.
Because this axle assembly uses no differential and driveshaft, there are no crankcase interference issues; therefore the truck body does not need to be raised as required when installing a conventional mechanical drivetrain. This has a number of benefits, notably: reduced installation cost, lower center of gravity, easier cab access and more load clearance.
The front wheel motors are powered by a Poclain Hydraulics closed loop variable displacement pump that is driven off of the transmission PTO. A Poclain Hydraulics AddiDrive freewheeling control valve is also used to control the engagement/disengagement of the front wheels, which can be done on-the-go. An electronic CAN link controller matches the speed of the front wheels to that of the rear wheels as well as providing other functions. The front wheels can be deactivated by the operator or they will automatically disengage when the vehicle exceeds a predetermined speed, usually 30 km/h depending on tire size. The system can then be re-engaged without coming to a stop once the operator slows down within the operating speed range.
Source: Poclain Hydraulics