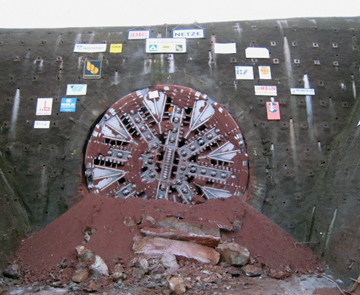 Breakthrough at new Schlüchtern Tunnel
The tunnel boring machine designed by Wirth has reached its goal after a boring distance of almost 4,0 km. The machine successfully dug through 330 000 m³ rock for the new parallel tube to the Frankfurt-Fulda section of the existing Schlüchtern railway. The breakthrough is a decisive step toward completion of this very technically challenging project.
The ground along the tunnel section which is underneath the "Distelrasen" – a ridge near Fulda – is geologically multi-layer and was extraordinarily complex . Hard sandstone alternated in quick sequence with soft clay formations. For this excavation project, Wirth developed a special-type tunnel boring machine, a so-called 'dual mode machine' that was able to achieve good penetration rates in the alternating geological situations. Simultaneously, a maximum of operational safety in the tunnel construction was ensured. The machine, which was developed by the long-established company in Erkelenz, has a boring diameter of 10,24 m, is approx. 110 m long and weighs more than 1600 t – a really large-size machine for a large-size project.
The 190 million € ($300 000) refurbishment / construction of the old and new Schlüchtern Tunnel is part of a programme by which Deutsche Bahn is restoring its existing long-distance net and advancing the net extension for high-speed railway traffic.
In a few months, the railway technical utilities will be installed in the new parallel tube. In a transition phase, the railway traffic will be routed in both directions through this new Schlüchtern Tunnel. The old Schlüchtern Tunnel built in 1914 will then be completely refurbished. When these operations are completed the 'interim status' in new Schlüchtern Tunnel will be dismantled. Finally the trains will move in both tunnels in single-track traffic which provides a maximum of safety for the passengers of the DB and the railway traffic proper.
The traffic density in this sector of the DB net is very high: as many as 260 trains daily. Following the refurbishment/construction both Schlüchtern railway tunnels are expected to rank among the most-frequented tunnels in Germany.
Source: Wirth GmbH

Cet article est également publié en français