Canadian Winters Are No Match for BASF's
Neopor® Expandable
Polystyrene
BASF's Neopor, a new expandable polystyrene (EPS), is going to keep a lot of students warm in the coming Canadian winters and cool in the summer at the new Village Suites in Oshawa, Ontario. Village Suites, designed by Dundurn Edge Development, is a project consisting of 133 suites, with 588 bedrooms, located approximately 0,5 km from the front gates of the University of Ontario, Institute of Technology. Construction began in May 2009 with occupancy slated for the new semester beginning in August 2010.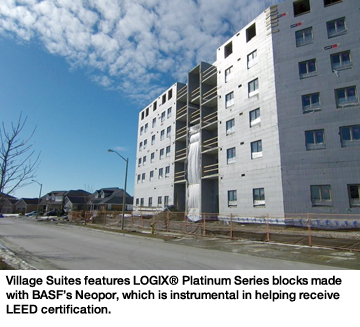 This project is expected to be certified as the largest Leadership in Energy and Environmental Design (LEED) Platinum certified project in Canada.
The six story building is constructed with 30 000 LOGIX® Platinum Series blocks made with BASF's Neopor. LOGIX, an early adapter of green technology, has built several buildings that feature the gray Neopor instead of traditional white EPS. The fundamental difference in Neopor is that it contains special graphite particles that reflect thermal radiation like a mirror, thus reducing heat loss. This significantly improves its insulation capacity and gives it a silver-gray color.
"We are pleased to see the interest generated in building with sustainable products," said Andrew Bayley, manager for BASF's Foams business. "Currently, BASF is involved in several projects demonstrating our commitment to sustainability and will continue to help spread the message about energy-efficient buildings."
Source: BASF Corporation