New and Improved Membrane Uses Renewable Resources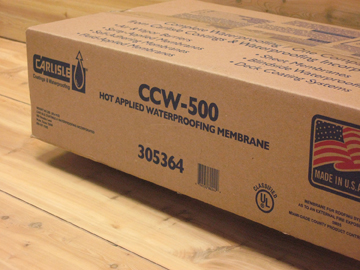 Carlisle Coatings & Waterproofing Incorporated (CCW) announces its new and improved CCW-500 hot-applied waterproofing membrane. The new patent-pending formulation utilizes a post-industrial renewable resource that resulted in a membrane with superior flexibility and crack-bridging ability when compared to membranes produced under older technologies.
The CCW-500 membrane is a single-component, 100% solids, rubberized asphalt compound which, when set after application, forms a durable yet flexible monolithic waterproofing membrane conforming to stringent building specifications. The patent-pending formulation not only contributes toward industry recycling but enhances the elastomeric properties of the CCW-500 membrane, while keeping an unused industry by-product out of landfills and wastewater streams.
Due to its enhanced properties, CCW-500 now resembles a rubber-like sheet upon curing resulting in improved flexibility and performance. CCW-500 can be adhered to virtually any surface, vertical or horizontal, providing exceptional waterproofing protection and ensuring that water does not migrate beneath or behind the surface of the membrane. The reformulated CCW-500 now provides even longer-lasting waterproofing protection using standard installation methods. It requires less heat for application, stays workable longer allowing for a wider installation timeframe and resists flow once the material has set.
CCW continually strives to contribute toward the production of environmentally conscious construction materials. As a result of this commitment, CCW-500 now contains 30% recycled content (classified "pre-consumer") to aid in securing LEED® points in greener-building construction. Further, the advanced performance characteristics of CCW-500 do not include the leeching of heavy-metals through the use of reground tire rubber or other volatile materials.
With this new proprietary technology, CCW-500 not only serves as a superior-performing waterproofing material that meets demanding industry standards, but also contributes toward a cleaner, healthier environment, utilizing and recycling post-industrial resources while reducing the use of non-renewable resources.