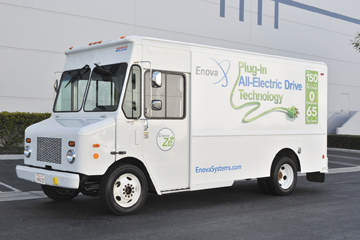 Enova's Next-Generation Omni-series Inverter Drives Economic Value for OEM Customers
Enova Systems, Inc. recently unveiled its highly anticipated next-generation of power electronics with the new Omni-series 200 kVA-capable power inverter for hybrid-electric and all-electric medium and heavy-duty commercial vehicles. In addition, Enova is preparing to fulfill the first U.S. Government order of its groundbreaking all-electric walk-in step van.
In development since February 2009, Enova's industry-leading Omni-series inverter features a 50% smaller design package and double the continuous power of the current 90kW system. The new inverter's smaller size and higher power translate into a significantly improved value proposition for customers.
"Extensive design validation testing is scheduled for completion in Q3 this year, so the Omni will be available for customer program development soon after that. With its improved efficiencies, this innovative new technology has the potential for faster, wider deployment in the commercial truck and bus fleet market around the world," said Enova COO John Mullins.
Power-source agnostic, the new Omni-series inverter also offers increased flexibility and ease-of-integration. With plug-and-play connectivity, it is compatible with a wide range of vehicle drive systems and motors, and can be configured for HEV, PHEV and EV applications. The groundbreaking new Omni-series power inverter is the result of Enova's ongoing refinement and innovation of its clean vehicle technology and a sign of things to come.
"Our next-generation Omni-series products firmly establishes Enova as the leader in designing and supplying core power electronics components that drive clean commercial vehicles," added COO Mullins. "We will continue to innovate and enhance our technology to deliver economic value and payback for our OEM partners and their fleet customers."
On the heels of the Omni product introduction, Enova received its first order through the General Services Administration (GSA). This first deployment of EV step vans is part of Enova's exclusive one-year renewable supplier contact with the GSA, which supplies vehicles for government agencies and armed forces. The GSA, along with all Federal agencies, has been tasked by President Barack Obama in a recent Executive Order to set and meet specific targets for increased energy efficiency, a 30% reduction in fleet petroleum consumption, and reduced emissions by 2020.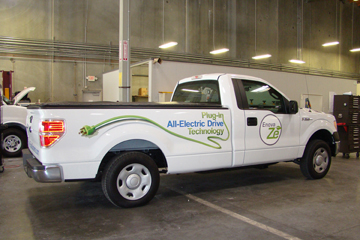 "Enova is pleased to have been selected by GSA as the agency's exclusive supplier of all-electric steps vans," says Mullins. "Our all-electric walk-in step van is road-tested and ready to move our government and nation forward toward cleaner transportation."
The first order of Enova powered vans will be delivered to the U.S. Army base located at Ft. Lewis, WA. Built to base specifications with a 400 cm wheel base chassis and a 6575 kg gross vehicle weight rating, the all-electric van is the ideal choice for the unit's Public Works department which provides general maintenance across the base.
"The initial U.S. Army order allows us to demonstrate the efficiencies and robust performance of the van under demanding real-world drive cycles," added Mullins. "We anticipate increased orders from other government agencies and departments in the weeks to come."
The company has recently expanded its all electric Zero Emissions (Ze) drive system offerings to include a Ford F-150 utility truck and Chevrolet Express cargo van. The Ford F-150 has been integrated with a 90 kW all-electric Ze drive system. The Chevy Express cargo van has been integrated with a 120 kW all-electric Ze drive system.
Source: Enova Systems Enova Systems, Inc.