New Controller Cuts Scrap-Handling Costs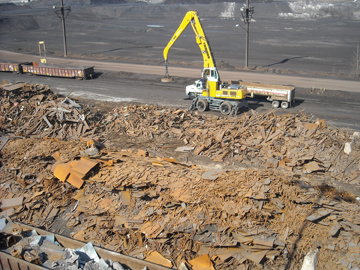 After more than a year of field testing, a new magnet controller manufactured by Hubbell Industrial Controls has demonstrated that it will vastly reduce maintenance demands while enabling maximum efficiency and control during operation, even in high duty-cycle lifting applications.
Hubbell announced the new controller as ready for market in co-operation with its originators, Control Services of Westmont, Illinois. Hubbell will manufacture the patent pending e-mag controller. Winkle Industries, Hubbell's master distributor, will market the e-mag controller for use on all makes and models of mobile cranes in recycling and steel mill material handling applications.
The e-mag DC generator controller takes a dramatically new approach to controlling all power fluctuations inherent in the duty cycles and demands of lifting magnet applications.
Instead of reacting to magnet system failures as other units do, the e-mag controls the flow coming out of the generator before it becomes an issue. In essence, the e-mag prevents failures by protecting the magnet system and controlling the generator output for optimum efficiency.
The e-mag design is ideal for high demand operations and is available for generators from 5 kW to as much 50 kW, with no fear of problems with maximum voltages.
By controlling the power to the generator output, the e-mag controller also allows greater flexibility in matching the magnet to the material it is handling. The e-mag enables infinite voltage control within the speed requirements of the generator. Power can be increased to the maximum for short periods without damaging the magnet. Operators have equal control over the magnet's draw-down time. For heavily saturated loads such as steel slabs, the release time can be increased to as much as 14 seconds. The maximum draw-down with any other controller is typically about 2,5 seconds.
With this added control, operators can easily set up their magnet system to pick up more material in less time, and release it more efficiently. Combined with a high duty cycle magnet, the result can be significantly more cycles which leads to more material being moved in every working shift.