Track-Mounted Mobile Pivot Base Improves Conveyor Mobility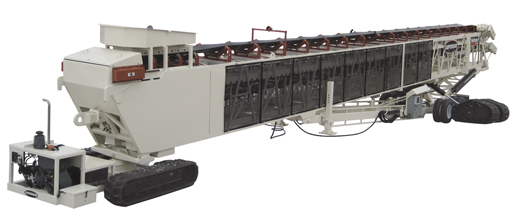 Superior Industries, a leading manufacturer of conveyor systems and components, introduces a new option for maximum conveyor mobility. The track-mounted mobile pivot base, when applied with the TeleStacker® telescoping radial stacking conveyor (or other conveyor types) delivers free-ranging conveyor movement for increased onsite or transfer point mobility; or for increased flotation and total mobility on low pressure soils – all while reducing the need for haul trucks and loaders, additional labor and material handling, or other costly loading and unloading systems.
Requiring no external power, the mobile pivot base is self-contained and powered by an onboard 48 hp Deutz diesel engine with a 113 l fuel and hydraulic oil tank. Featuring wireless remote control operation, the unit travels on two heavy-duty, hydraulic-drive rubber tracks. For greater stability and maximum flotation, the tracks are almost 2,75 m in length, more than 40% longer than comparable units. An ability to maximize speeds for either the lower or higher range, allows precise control to link up to a feed point, or quicker travel from point to point within the site. Importantly, the mobile pivot base is engineered with a two-axis gimbal, which provides maximum stability and rotational freedom on uneven ground or rugged terrain, while eliminating any stress to the conveyor structure and frame.
The new track-mounted mobile pivot base delivers increased mobility in a variety of applications and industries – and certainly anywhere where low pressure soils require greater flotation and traction. The unit is ideal for the optimum mobility desired in gold and copper heap leach operations. For barge and ship load/unload operations, its transfer point mobility allows it to work in conjunction with a tripper system, thus eliminating the need for large stationary shiploader systems. It is also suitable for dirt moving applications, or for roller compacted concrete (RCC) site mobility.
Source: Superior Industries