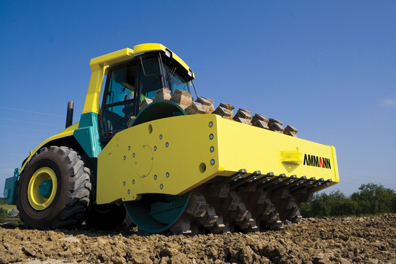 New Ammann Dealer for
the Province of Quebec
and Ottawa Region
Peter Price, Area sales manager for Ammann Canada, is pleased to announce that Bock Inc. has joined the growing network of Canadian Ammann distributors.
The company will represent the full line of Ammann compaction and paving equipment in its four branches in Montreal, Saint-Hyacinthe, Sherbrooke and Quebec City.
"Bock will pioneer the global Ammann product line in the four corners of Quebec, as well as parts of Eastern Ontario and the Ottawa region," says Peter Price. "It is a new and exciting market for Ammann Canada."
Bock is the exclusive CASE Construction dealer located in Quebec and has earned a well deserved reputation as a leader in sales and product support of industrial equipment. The company services a broad customer base including clients in road construction, excavation, landscape, demolition, snow removal, municipal works, utilities and landfill. In addition to CASE Construction, the company represents Link-Belt and Takeuchi products.
Adding the complementary line of quality European Ammann compaction and asphalt rollers to Bock's existing product lines gives the company more flexibility to meet their customers' needs.
"The Ammann line-up is complementary to our full-line of CASE products so we can now offer one-stop shopping to our customers in the earthmoving, compaction and paving sectors," says Raphael Bock, manager of Business Development.
Going forward, Mr. Bock sees considerable opportunity for the Ammann brand in Quebec. "Quebec's harsh winters continually create a significant backlog of infrastructure projects like roads, bridges and overpasses which has in turn created a huge demand for quality road building equipment to get the work done," he says. "We're convinced that our new line of Ammann products will go far in meeting that need."
Bock officially launched its Ammann line during Journée Expo-Bitume, a roadbuilding show organized by Bitume Quebec, held in Saint-Hyacinthe on March 31, 2011.
Source: Ammann Canada