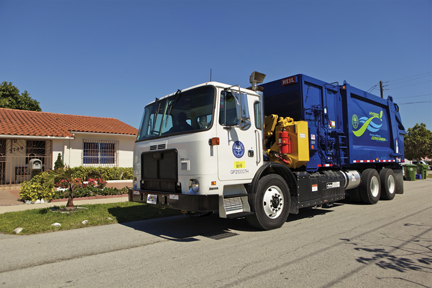 Autocar E3 Advanced Series Hydraulic Hybrid
Autocar announced the commercial launch of the E3 Advanced Series Hybrid cab/chassis at Waste Expo 2011. This commercial launch is the culmination of a rigorous testing and validation program, and follows the very successful implementation of a preproduction E3 fleet that is in service in the greater Miami area.
The E3 is the industry's lowest emission, fully functional class 8 truck available today. Operational results have shown fuel consumption reductions of 30-50%, with a typical saving of 45%. This translates into a savings of 17,000 l/y of diesel fuel for an average refuse application, with a corresponding annual reduction of CO2 of 45 t per truck. In addition to fuel savings, operators will also realize a dramatic reduction in brake wear, and reduced operational noise. These savings are realized in a platform that improves both performance and productivity resulting in environmental and operational benefits.
Autocar's partner-supplier Parker Hannifin has developed the Runwise® hybrid module that replaces the vehicles' traditional automatic transmission. Going beyond the energy recovery capabilities of other systems, it features full powertrain management to deliver these unmatched results. The E3 and Runwise have been recognized by the California ARB for the Hybrid Vehicle Incentive Program voucher program, and by the EPA as an Emerging Technology under the National Clean Diesel Campaign.
Tom Vatter, Autocar's vice president of Sales and Marketing states, "Autocar is excited to bring the E3 to the marketplace. Its benefits have been shown to pay dividends in the field trials and with the preproduction units in service.
Adding this chassis reinforces Autocar's position at the leading edge of alternate fuel and alternate propulsion solutions for the refuse industry. At a time when the United States reliance on foreign oil is a front-page concern, Autocar is proud to be participating in programs that reduce that dependency, and improve the environment for all."
Source: Autocar, LLC