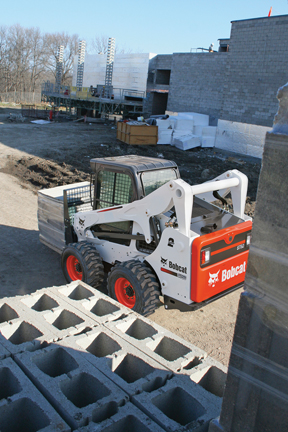 Bobcat S750 Skid-Steer Loader
Makes Lifting and Loading More Efficient
Bobcat's new S750 skid-steer loader can help contractors power their way to top performance in construction, landscaping, nurseries and other applications. Lifting and loading is easier and faster because the machine achieves maximum reach at full lift height.
The S750 joins the Bobcat M-Series loader line, which share features such as improved power and performance, better visibility and outstanding operator comfort.
The S750 delivers an incredible 3.35 m of vertical lift and features a 87 l/min standard hydraulic flow. It has an operating weight of 4,413 kg, a rated operating capacity of 1,450 kg and is powered by an 85 hp engine.
The hydraulic systems on M-Series loaders have been engineered for higher standard flow and pressure that give attachments more power to work more quickly. The auxiliary hydraulic quick couplers are mounted directly to the front plate of the lift arm to provide a solid mounting, and hoses are routed through the loader arms for better protection. A guard bar extends in front of the coupler for added protection.
The S750, like other M-Series loader models, features a unique cab-forward design that moves the operator closer to the attachment and provides unmatched visibility in all directions. Windows on the sides and rear of the cab have also been increased in size to provide more visibility to the tires and to the rear. The larger top window makes it easier and more comfortable for the operator to see the attachment with the lift arms raised, an advantage when loading trucks or performing other tasks.
The control levers on the optional Selectable Joystick Controls (SJC) move up and down in conjunction with the seat to reduce arm movement and fatigue as the operator controls the machine. The joystick mounts slide forward or backward to adjust to the preference of each individual operator.
Source: Bobcat Company