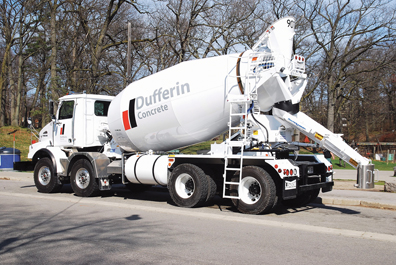 Dufferin Concrete Wins Inaugural
Award for Leadership in Sustainable
and Green Construction Practices
Dufferin Concrete, a division of Holcim (Canada) Inc., is the recipient of the inaugural award from the Ontario Road Builders Association (ORBA) that recognizes environmental leadership and sustainable construction practices after the company equipped its fleet of more than 400 ready-mix trucks with the Enviroguard system. The 2010 ORBA Green Leadership and Sustainability Award was presented to Dufferin Concrete on Earth Day by ORBA, in partnership with the Ministry of Transportation (MTO) and the Ontario Good Roads Association (OGRA).
Enviroguard is a self-contained ready-mix truck chute wash-out system that addresses the industry-wide environmental issue of properly disposing of chute wash water in a safe, cost-effective and eco-friendly way.
This innovative solution works in a simple and effective manner where the ready-mix truck driver simply attaches a bucket to the end of the chute so when he hoses down the chute the waste water collects in the bucket, along with unused sand, aggregates and cementitious materials, all of which is recycled. This closed system provides an environmentally responsive and economical recycling solution for materials and water that might otherwise be dumped at a job site.
In 2010, Enviroguard helped Dufferin Concrete eliminate nearly four million liters of concrete chute wash water from being released into the environment.
Source: Holcim (Canada) Inc.