Boweld Taperlite Body and Edbro CX14
Tipping Gear Offer Improved Payload
The Taperlite, a new steel, single skin tipper body, designed and developed by UK-based Boweld Truck Bodies integrates an Edbro CX14 lifting cylinder to provide weight and space saving as part of a new lightweight package that will increase potential payloads for operators to more than 20 t and improve profitability.
The Taperlite body, as its name suggests, tapers from front to rear by 10 cm. It has been designed with a flat floor, to enable any material stuck to it to be easily removed with a shovel. "With the design of the body we are able to get the arms of the sheeting system within the body width," said George Boden. "This removes the blind spots created by the arms on traditional bodies. The top rail is also unique to the Taperlite, it allows the fully extended sheet to cradle against the tailgate covering the entire load."
The first of five single-skin Taperlite bodies, which has European Design Registration, has been built for Manchester-based demolition and earthworks company, PP O'Connor Ltd. It is fitted to a Scania P400 8x4 chassis cab.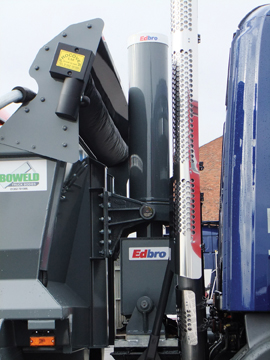 "The combination of our new steel, single skin Taperlite body and Edbro's CX14 tipping gear meant that we were able to meet PP O' Connor's target payload exceeding 20 t," said George Boden. "The body and tipping gear as a total package weighs only 2,200 kg, driving down the overall chassis weight, and increasing potential payload and profitability."
"Our company has used Edbro gear for over 30 years and have never had a problem," commented Peter O'Connor, of PP O'Connor. "We knew that the CX14 is extremely lightweight and durable and would improve the overall performance of our vehicles, providing a fantastic opportunity to increase payload and improve the profitability of jobs. We will almost certainly be ordering more CX14s in the future."
Designed for rigid vehicles with up to 32 t nominal GVW, the combined pump and tank CX14 delivers weight savings of 230 kg against competitor products for the same application and 30% faster dump cycles.
Boweld Truck Bodies designs and manufactures steel dump bodies and auxiliary equipment. Established over 25 years ago, the company manufactures the most technically-advanced, design registered, steel tipping bodies available in the UK with individual products enjoying the benefit of a number of extensive patents.
PP O'Connor is a well established, family run business located on the outskirts of Manchester. The company's main activities center on the construction industry, providing comprehensive services for excavation, demolition, disposal and ground works. Clients include building and civil engineering companies in the North West of England and rest of United Kingdom.
Source: Edbro Plc