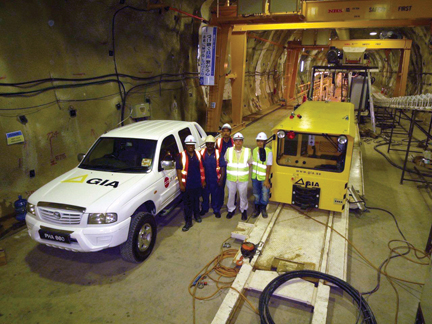 Record Order for GIA
on Malaysian Water Tunnel
Sweden's GIA Industri AB has started deliveries and installation of its record order for locomotives and ventilation fans and ducting on the 44.6 km Pahang Selangor Raw Water Tunnel in Malaysia. The order for nine D10 locomotives, six AVH90 Swedvent fans and 36 m x 1,6 m diameter ducting was placed through its local dealer JetCan and is the company's largest order for a single tunnel project in Asia. Forming a key element of the Pahang Selangor Water Transfer project, the tunnel will be the longest and biggest in South East Asia and the sixth biggest in the world.
It has been designed to transfer water from Pahang to meet future water supply shortfalls in Selangor/Kuala Lumpur region for domestic and industrial users.
Once completed in 2014 by the main joint venture contractors, comprising Japan's Shimizu Corporation and Nishimatsu Corporation plus local companies IJM and UEM Builders Bhd, the scheme will pump 1890 million l/d of water at a discharge rate of 27.6 m3 /s. Raw water will be transferred through the 5.2 m diameter tunnel with gravity flow to the water treatment plant.
The tunnel will be excavated by TBM's over 35 km and conventional New Austrian Tunnelling Methods (NATM) at both portals. Construction will also include four adits.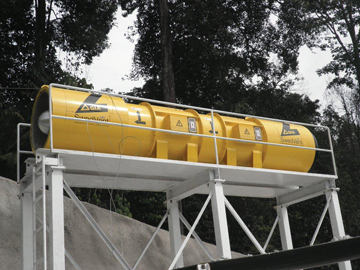 The GIA equipment is being distributed at three different locations supporting the excavation and tunnelling works.
The Sweden ventilation fans and ducting system is being installed to blow fresh air into the tunnel and ventilate the air back outside the tunnel. The fans are built in a rugged anticorrosion treated design to withstand aggressive environments.
GIA's Swedvent ducting is fabricated in flexible, precoated polyester fabric in lengths of 10 m up to 200 m to ensure a pliable, easy to handle duct with a relatively low weight and high durability.
According to JetCan's managing director, Jet Wee Ong, the flexibility of the diesel locomotive's design including lowering its overall height was a key factor in winning the order. "It allowed the locomotives to function at an optimum level even under the constricted construction conditions of the underground tunnel."
The nine GIA D10 diesel locomotives will be used to convey building materials and workers in to the tunnel. Designed for tunnelling and mining applications, the 10 t-class locomotives offer high productivity, a high traction force and a top speed of 20 km/h.
Throughout the 25 month construction period, JetCan will provide a full on-site maintenance and back-up service for the GIA equipment.
Issued on behalf of GIA Industri AB by Joem Promotions