New Micro Surfacing Paver Carries More, Maximizing Paving Distances While Reducing Environmental Impact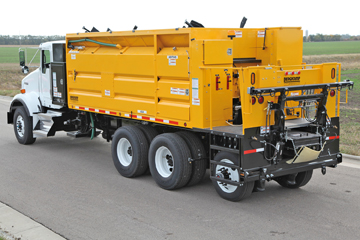 Bergkamp Inc. offers the M212 truck-mounted slurry seal and micro surfacing paver that increases production capabilities and minimizes potential greenhouse gas emissions. The M212 is Bergkamp's largest truck-mounted paver, holding more aggregate, asphalt emulsion and water to increase the surface that can be paved per load. Ideal for jobs where distances from the stockpile are farther, the M212 delivers one of the most efficient methods of preventive maintenance for highways, roads and parking lots – which can extend the life of pavement by up to seven or more years.
The truck-mounted M212 can carry 9.2 m3 of aggregate in a level struck load, 2,616 l of asphalt emulsion and 2,616 l of water and features a 246 l stainless steel additive tank. The pugmill, conveyor and all liquid material tanks are removable for easy cleaning. All tanks are bolted in rather than welded, adding extra durability and improving ease of maintenance.
The asphalt emulsion and water tanks are separate components, eliminating possible rust-through and contamination of products. The M212 has a full-width working platform that allows operators to easily see both sides of the unit, the spreader box and the material being placed. In addition, a remote sideshift control lets the spreader box operator control the box from the ground.
Pavement preservation methods such as the slurry seal and micro surfacing treatments applied by the M212 use fewer natural resources (e.g., aggregate, binder, etc.), consume less energy and reduce overall greenhouse gas emissions when compared to traditional pavement reactive maintenance and repair methods.
The M212 has a proven design with convenient control locations and good operator visibility. It is powered by an onboard 99 hp Cummins diesel engine. The unit provides flexibility to better manage legal load weight restrictions by adding additional axles, including one behind the drive axle – which increases the wheelbase and helps meet the Federal bridge law.
Source: Bergkamp Inc.