McNeilus Displays 12 Refuse Vehicles at Waste Expo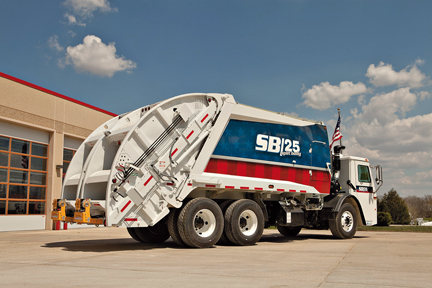 McNeilus Companies, Inc., an Oshkosh Corporation company, displayed a total of 12 waste and recycling vehicles at the Waste Expo in New Orleans, Louisiana, that was held last May. The company had four McNeilus® refuse vehicles at its own booth, and eight additional trucks showcased at the booths of key vendors and chassis manufacturers.
In addition, the McNeilus booth included displays demonstrating the Excalibre™ hardened tool steel scraper, and an all-new Street Smart Vision Systems' Digital Obstacle Detection system.
Vehicles in the McNeilus booth included a 30.6 m3 lightweight front end loader prototype built on a Peterbilt chassis showcasing several new technologies and engineering enhancements. Other vehicles include a 19.1 m3 Split Body Rear Loader, a Zero Radius™ automated side loader (with a 366 cm extended reach arm design) on an Autocar ACX chassis powered by compressed natural gas (CNG), and a McNeilus Extra Compaction (XC) rear loader. Rounding out the display is an IMT® Dominator® field service vehicle (from McNeilus sister company IMT) built on a Ford F-550 chassis with a CNG conversion.
McNeilus refuse trucks at booths of key vendors and chassis manufacturers included: an Atlantic Series Front Loader® with CNG power on a Peterbilt chassis in the Rush Refuse Systems booth; an XC Rear Loader with CNG power on a Freightliner chassis in the Freightliner booth; a pair of 30.6 m3 Contender Front Loaders, one on a Mack MRU, diesel chassis and one on a Mack LEU, CNG chassis at the Mack booth; a 30.6 m3 Atlantic Series Front Loader with CNG power in the Peterbilt booth; a Contender Front Loader with CNG power at the Curotto-Can booth; a McNeilus AutoReach Automated Side Loader® on an Autocar right-hand drive chassis with CNG power in the Autocar booth; and a 19.1 m3 XC Rear Loader on a Freightliner chassis with CNG power at the Environmental Research Education Foundation (EREF) booth.
Source: Oshkosh Corporation