Investments in Toronto's Waterfront Deliver Strong Economic Returns
Investments in Toronto's waterfront revitalization by the governments of Canada and Ontario and the City of Toronto to date have produced $3.2 billion in output for the Canadian economy and 16,200 full-time equivalent employment, according to a third-party study released recently by Waterfront Toronto.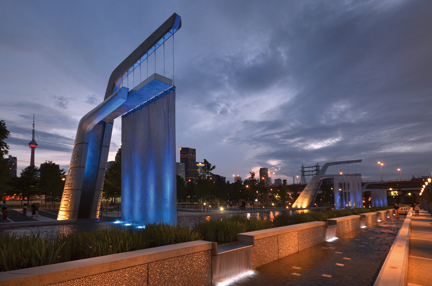 Prepared by economic research firm urbanMetrics, the study found that the $1.26 billion public investment made through Waterfront Toronto between April 2001 and March 2013 has also generated government revenues of approximately $622 million, including $348 million to the federal government, $237 million to the provincial government, and $36 million to the City of Toronto.
In addition to the economic benefits from its direct investment, Waterfront Toronto has attracted development projects valued at nearly $2.6 billion to the first new waterfront neighborhoods of East Bayfront and West Don Lands – effectively doubling the value of government investments in the waterfront. These projects include the Bayside mixed-use development by Hines valued at $910 million, the 2015 Pan/Parapan American Games Athletes' Village by Dundee Kilmer valued at $814 million, Urban Capital's River City Condominiums valued at $383 million, and Great Gulf's Monde Condominiums valued at $276 million. Construction of these projects will contribute $2.22 billion to the Canadian economy, nearly 23,600 full-time equivalent employment and $1.17 billion in labor income.
Beyond the land it controls, Waterfront Toronto's revitalization work has helped stimulate more than $9.6 billion of private investment. There are 44 recent and planned development projects on privately-owned lands across the waterfront and in adjacent neighborhoods close to where Waterfront Toronto has invested heavily in infrastructure, such as parks, waterfront access, transit, flood protection and brownfield remediation. These developments will contribute an additional $8.9 billion to the Canadian economy, more than 94,800 full-time equivalent employment and $4.7 billion in labor income.
Source: Waterfront Toronto