McNeilus Launches Pacific Series Ultra Front Loader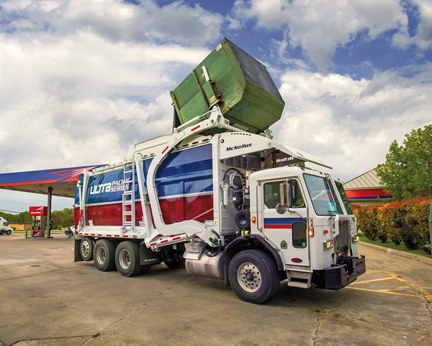 McNeilus Companies, Inc., an Oshkosh Corporation company, displayed a total of 12 refuse vehicles at Waste Expo that ended May 1st in Atlanta, Georgia. Headlined by the new McNeilus® Pacific Series® Ultra Front Loader and a reengineered Zero Radius (ZR) side loader, this is among McNeilus' largest vehicle presentations at Waste Expo.
The Pacific Series Ultra Front Loader showcases several new technologies and enhancements that reduce weight without sacrificing durability. The Ultra body is built to maximize federal bridge payload up to a maximum GVW of 26 000 kg. Other innovative technologies to be featured at Waste Expo include the McNeilus Zero Radius arm, now available with a longer 3,66 m reach.
There were a total of 6 vehicles on display in the McNeilus booth. In addition to the Pacific Ultra Front Loader and the Zero Radius Automated Side Loader, the display showcased a McNeilus Standard Rear Loader configured for export markets. Other vehicles on-hand include a McNeilus AutoReach® Automated Side Loader powered by compressed natural gas, a McNeilus Split-Body Rear Loader, and a Manual/Automated Side Loader.
Other McNeilus vehicles spotlighted in prime locations throughout Waste Expo included 2 McNeilus Standard Rear Loader vehicles in the Freightliner and Kenworth booths. There is a McNeilus Atlantic Series Front Loader® in the Mack booth and another in the Rush Refuse Systems booth. A McNeilus Contender Series Front Loader was featured in additional McNeilus booth space near WasteExpo's reception area.
Finally, a McNeilus Atlantic Series Front Loader was featured at the Environmental Research & Education Foundation (EREF) booth, where it was headlined in a live auction benefitting EREF's scientific research and educational initiatives for waste management practices. McNeilus will participate at the Canadian Waste & Recycling Expo in Toronto, on November 19-21, 2014.
Source: McNeilus Companies, Inc.