The Dressta TD-20M LA is Tailored to Handle Different Types of Wastes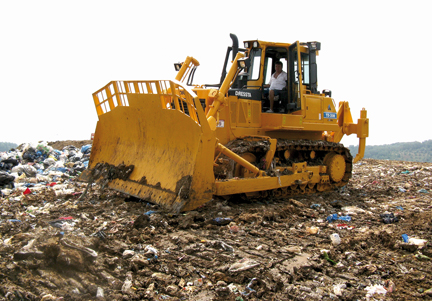 Crawler dozers are mostly used in landfills to prepare the site, build access roads and then spread and compact refuse. They rip ground cover and compact it over the refuse. They operate under all weather conditions and are suitable for all methods of waste disposal.
The Dressta TD-20M LA Extra landfill crawler dozer features an excellent waste compaction capability with its optional large blades, trash rack and multi-shank ripper. It is driven by reliable Cummins engine that develops 240 hp. The landfill machine is equipped with turbine type precleaners and a hydraulically-driven reversible cooling fan.
The operator's cab is designed to provide the utmost safety and operating comfort. Ergonomically-designed joysticks for motion and mounted equipment control are easy and comfortable to operate and offer excellent precision.
Semi-U or full-U blades, are the most common blades used on landfill crawler dozers. The trash rack has a steel plate in the center to prevent rods, wires etc. from entering into the radiator area. Working with the heavy full-U trash rack blade, in the case of the TD-20M LA, requires the use of an additional counterweight, which will ensure the appropriate balance of the machine. In addition, Dressta offers the TD-20M LGP LA landfill dozer with a low ground pressure undercarriage and 864 mm wide track shoes.
Extensive guarding helps protect the critical machine components, especially the undercarriage, from being damaged by debris in harsh waste handling environments. Minimizing build-up helps prevent component damage. Track roller guards are necessary to keep refuse, brush etc. out of the rollers and track chain. Sprockets are protected with sprocket rock guards to prevent landfill material from entering between sprocket teeth and track chain bushings. Final drives are to be equipped with bolted final drive seal guards. Striker bars prevent debris from riding up the track and damaging the fenders. Front striker bars, depending upon the tractor size can be either bar type (STD) or bridge type (LT, LGP). Rear striker bars can be attached to either a ripper frame, if the tractor is so equipped, or to a landfill counterweight box. The standard bolted guard protects the fuel tank and the hydraulic reservoir against damage caused by wires, penetrating rods, sharp materials or other stiff metal pieces which are often found in landfills.