FLO Components Launches the 6th Year of Its "Lube Basics" Seminars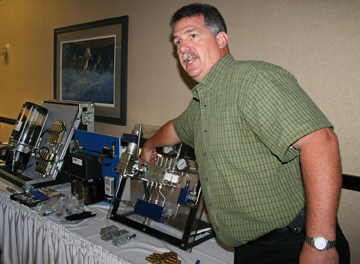 Automatic Greasing Systems specialist FLO Components Ltd. has announced the 2015-2016 schedule for its Lube Basics Seminars. Scheduled cities will include Kitchener, Mississauga, Timmins and Thunder Bay, Ontario.
In a study conducted by a major component manufacturer, improper lubrication accounts for 53% of all bearing failures, a major cause of equipment downtime and significant unnecessary maintenance costs. "FLO Lube Basics Seminars are designed to help you avoid common lubrication failures by turning your personnel into 'Lubrication Specialists'," according to FLO's marketing specialist Gabriel Lopez.
"Each 1-day seminar will have a balance of theory and practical, 50% of the time will be your traditional in-class training, 50% will be more "hands on" training. These seminars are designed and presented as an unbiased, 3rd party, vendor neutral lubrication training program - we don't bring people there to sell them on our products, we teach them what they need to know about dealing with everyday lubrication issues, so when they apply what they learn, their payoff is immediate and permanent."
Some of the topics to be covered in the seminars include:
·Basic principles of friction/wear, lubricants and lubricant types;

Grease properties/compatibility/applications;

Introduction to manual lubrication (fittings, calibrating grease guns, etc.);

Lubricant handling/transfer and storage procedures;

General Automatic Lube System operation, inspection and trouble-shooting procedures.
More information on the seminars can be found on FLO's website.
Source: FLO Components Ltd.