New Genie® GTH-1256 Telehandler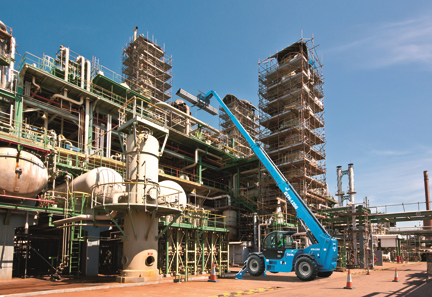 Genie is announcing the Genie GTH-1256 telehandler, providing industry-leading performance and exceptional usability with high capacity while leveraging a proven design. By adding the GTH-1256 to the smaller telehandlers, the Genie® GTH-5519, 636, 844, 1056 and the larger GTH-1544 telehandler, it completes the Genie telehandler line. The new 1256 telehandler was shown publicly for the first time at the World of Concrete tradeshow in Las Vegas, and again at the Rental Show in New Orleans, last February.
"Genie is making its mark by launching a full telehandler line," said Karen Stash, senior director, Marketing and Product Management, Terex AWP. "Our expanded fleet provides customers with a single contact for all their needs, whether it's for buying new machines, maintaining their fleet or providing service and support. Telehandlers are excellent for most applications on a variety of jobsites, such as construction, oil and gas, masonry or demolition."
Providing high visibility over a low boom profile, the Genie GTH-1256 telehandler has a lift capacity of 5,543 kg with a category-leading vertical reach capacity of 3,175 kg at a maximum lifting height of 17 m and a 12.8 m horizontal reach capacity of 1,587 kg. The telehandler has a total weight of 16,600 kg. A tight steering radius and hydrostatic transmission enable precise placement of materials and smooth machine control on jobsites.
The Genie GTH-1256 is a telehandler that is built to last featuring a military grade chassis design, the same chassis which is found on the largest Genie telehandler, the GTH-1544. The rugged chassis with field-proven Dana® axles offers full-time planetary four-wheel drive along with four-wheel steering capability. The telehandler has a four stage boom with internal chains and hydraulic hard lines for extra protection. It has durable heavy-duty fenders and is powered by either a Deutz or a Perkins engine.
The new Genie GTH-1256 telehandler is now in production and will only be available in the ANSI and CSA markets. GTH-1256 telehandler configurations for Latin America will follow in late 2015.
Source: Terex Corporation
Source: Terex Corporation