New LiuGong 856H Wheel Loader Shown at Intermat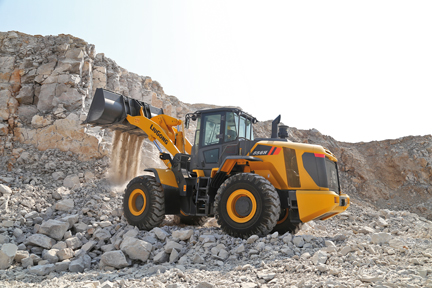 LiuGong's new 856H wheel loader has been tailored for the European market, combining half a century of LiuGong technology and innovation with full EU Stage IV regulation compliance. The 856H wheel loader marks the start of a new era at LiuGong and introduces a new level of productivity and serviceability.
The European market is particularly difficult for construction machinery manufacturers to enter due to the region's strict emission standards. But as globalization accelerates, LiuGong has adapted and is continuously creating products to suit the needs of different markets.
The 856H is equipped with a Cummins QSB6.7 engine which is extremely quiet and reliable. It adopts mature variable geometry turbocharger technology to provide superior torque. The high pressure common rail fuel injection system improves injection pressure and optimizes fuel consumption.
With this powerful engine, the 856H can work in extreme conditions in Europe and the rest of the world.
Modern ZF technology is applied in the driveline system, and the 856H features a ZF AP3000 wet axle with strong carrying capacity. The axle housing and main transmission system are reinforced to improve strength and anti-load capacity, with carrying capacity being increased by 40% from the previous model. It has a long service life, with average life cycle being increased by 250%. The ZF 4WG200 transmission works efficiently with the machine to achieve an optimal power output. An automatic shift transmission with kick down function and electric proportional FNR lever make operating more convenient and reduce operator fatigue. Along with the world-class parts, the 856H maximizes productivity for the customers.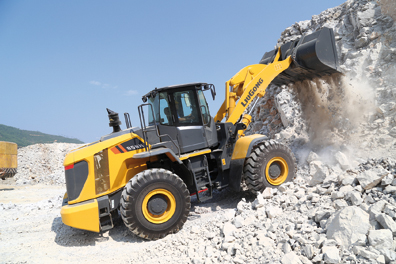 "To be a serious player in the global market competition, LiuGong has to ensure it manufactures high-quality products. LiuGong starts the design process with the customer, discovering their demands for the product and any improvements they require. We listen and then make the appropriate product design improvements," said David Beatenbough, vice president of LiuGong, who is in charge of LiuGong's R&D. "This is how the 856H wheel loader was created."
The 856H's new cab design allows for improved visibility to the work tool and improves all-around visibility for safety. Frequently used controls are placed within easy reach of the operator and curved glass in the cab decreases sound levels. 360° access around the cab allows for easy removal of snow and frost, and a constant temperature function can adjust the temperature automatically. The cab features ROPS (Roll Over Protective Structure) and FOPS (Falling Object Protective Structures) in compliance with ISO3471 and ISO3449 safety standards, which ensure that operator safety is at a maximum.
Like other LiuGong machines, maintenance of the 856H is simple and convenient. It adopts a ground maintenance idea, which means that users can accomplish the replacement and checks of various filters and fuels by standing on the ground without climbing up and down. The forward tilting engine hood, which is equipped with an electric lifting device, allows for ground level access to service points to increase the accessibility to components, thus reducing daily and scheduled service times while increasing the machine's availability to work. The hydraulic driving fan motor can be reversed for cleaning, and the water and oil drains are placed together to realize easier, faster maintenance and service.
"At LiuGong, it isn't about just developing the latest technologies. It's about developing the latest technologies that work -- consistently, reliably, day in and day out, at the toughest, most extreme jobsites in the construction machinery industry," added Mr. Beatenbough. "The 856H is one of the best demonstrations of LiuGong's hard efforts. We are on the right track, we are doing the right thing and we will never stop."