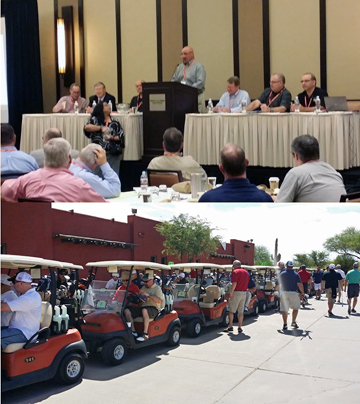 NAXSA Convenes First Annual Meeting




The North American Excavation Shoring Association (NAXSA) recently convened its 1st Annual Association Meeting themed, "Meet in the Desert," which was held May 6-8, 2015, in Chandler, Arizona. The inaugural Annual Meeting welcomed more than 120 attendees.
NAXSA's Annual Meeting – specifically designed for trench shoring dealers and manufacturers – is the essential forum to build enriching relationships and share innovative ideas. Speakers were comprised of experienced industry professionals who shared their best practices, detailed recently released regulations, and explained the impact of those proposed regulations on the shoring industry.
"In light of current legislative and regulatory changes, it is essential that we expand our networks and strengthen our existing connections," said NAXSA president, J. Dana Woundenberg.
"The mission of our new association is to unite our industry while promoting communication, education, innovation, and shared industry-wide goals and standards," Mr. Woundenberg added. "The whole event exceeded all our expectations and we hope to double attendance at next year's show."
The event offered knowledgeable keynote speakers, educational sessions, and featured a "trade-show" where participants could visit with 17 industry professionals; including: manufacturers, rental and sales companies, product suppliers and affiliates to the trench shoring industry.
The first day of activities kicked off with 56 golfers participating in a tournament held at the Whirlwind Golf Club. The 14 teams (four players each) enjoyed an afternoon of golf, cigars, lovely Arizona weather and camaraderie.
The 2016 NAXSA Convention is scheduled for February 17-19, 2016, returning to the Wild Horse Pass Resort & Casino in Chandler.
NAXSA was formed in July 2014 with the core purpose of promoting the safe and effective use of excavation shoring equipment and practices. The ultimate goal of the association is zero deaths and injuries in the excavation construction industry.