Terex AWP Now Manufacturing Products in Oklahoma City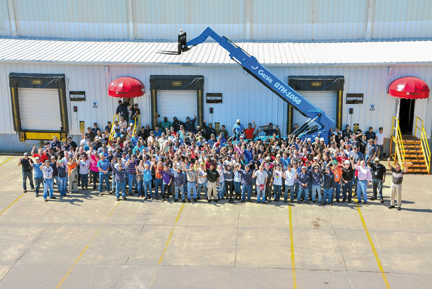 Terex Aerial Work Platforms (AWP), a business segment of Terex Corporation, is now manufacturing Genie® products in Oklahoma City, Oklahoma, at Terex Corporation's existing factory. This location will manufacture Genie® telehandlers and potentially other products as the market warrants.
"We have made a long-term strategic shift to our manufacturing footprint to move production closer to our North American customers," said Matt Fearon, president, Terex AWP. "By leveraging existing Terex facilities, we are able to take advantage of a lower overall cost structure while adding capacity as we continue to grow our Genie® telehandler product portfolio."
The Oklahoma City manufacturing facility is a Terex-owned space measuring 65 000 m2 and over 40 ha. There are over 260 team members employed at this location and Terex AWP is currently hiring to fill new positions. Oklahoma City is a prime location for reducing supplier and finished good transportation costs and is centrally located within the U.S. This will allow Terex AWP to meet its customers' needs in a quicker and cost effective way.
By adding this new manufacturing footprint, it will allow the company's core Washington plants to focus on new product development, production and meeting current demand. Additionally, Redmond, Washington. will remain the administrative and R&D headquarters, and Moses Lake, Washington, will continue to grow with the Genie® product line of large boom offerings.
"We are continuing to focus on product availability, leveraging our operational strengths and emphasizing our flexibility," said Mr. Fearon. "We are very excited to be a part of the Oklahoma City community and look forward to growing our team member base."
Source: Terex Corporation