Silver Medal for the New Unimog Combination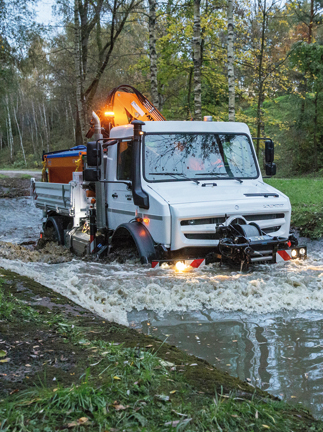 The Unimog for special requirements is now available. The Unimog U 5023 is the first model from the extreme off-road Unimog model series to be presented with public service equipment. The organizers of the Demopark municipal technology trade fair in Eisenach, Germany, honored this with a silver medal for outstanding innovations and advancements.
The new combination with common hydraulics is used to power various attachments and mounted implements such as automatic road gritters and snowplows. The Unimog is particularly suited to use in towns and municipalities at risk from flooding thanks not only to its ability to handle the usual road maintenance tasks, but also its capabilities in rescue and recovery operations in flooded areas, where its fording capability of up to 1.2 m really comes into its own.
The Unimog U 5023 combines the diversity of equipment familiar from the Unimog equipment carrier with the particular advantages of extreme off-road vehicles. In addition to the fording capability, these include an easy-to-operate tire pressure control system and a high payload.
Like the professional equipment carrier, the extreme Unimog off-roaders U 4023 and U 5023 both also have undergone fundamental further development as part of the introduction of the Euro VI engine generation. The OM 934 4-cylinder engine provides 230 hp and features not only outstanding emission values but also excellent fuel efficiency, with high power output available even at low engine speeds. Furthermore, the engine position has been moved back by approximately 1000 mm. This new mid-engine concept makes a direct engine power take-off available for the implement mounting space behind the cab. This means that equipment can be powered regardless of whether the vehicle is moving or not. For example, fire engines are able to move and extinguish fires at the same time.
The Unimog U 4023 and U 5023 continue to be characterized by their exceptional off-road driving characteristics made possible by its portal axles, low centre of gravity, articulation of up to 30° and extreme approach and departure angles.
Source: Daimler AG