Larson Releases New Solar-Powered LED Light Tower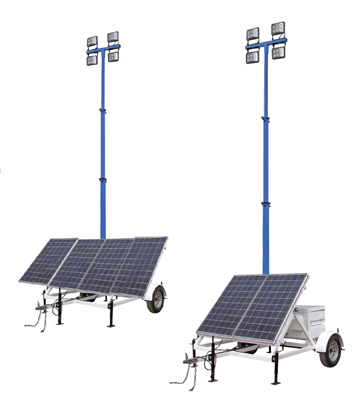 Larson Electronics LLC announced recently the release of a new solar-powered LED light tower to be added to its catalog of products. This solar-powered light plant features a battery charger and a built-in auto timer for customized light activation.
This 1.06 kW solar powered LED light tower includes 4 solar panels, a solar charging system, battery bank, battery charger and manual crank up mast mounted on a trailer with outriggers. The 1.06 kW solar generator system replenishes amp hours of usable battery capacity per day, assuming 5.5 hours of peak charging sunlight. This LED light tower is supported by 4 250 Ah 12 V batteries, equating to 1,000 Ah battery capacity. A battery charger provides flexibility during deployment, which allows operators to supply power to the batteries using an external power source. This feature is useful for sustaining extended periods of illumination and remote sites that lack adequate exposure to sunlight.
Each lamp on this solar-powered tower can be powered on individually, allowing operators to power one lamp or all 4 lamps at a single time to fit the required illumination requirements. An equipped dusk-to-dawn day/night sensor allows for automated operation of the light configuration set within the control center. Operators are also able to set a time/duration for light activation using the built-in auto timer feature. All of the electrical components are encapsulated in a NEMA 3R job box that is bolted to the trailer. Since most of these components are not rated for high heat, a component cooling system circulates air within the job box at 1400 cfm when the ambient temperature exceeds 32°C.
"It is important to always have a back-up plan, especially when you are working in a remote area," said Rob Bresnahan, CEO of Larson Electronics LLC. "Our solar-powered LED light tower enables users to set the lights activation period with a timer, as well as, a battery charger for when there is not enough sunlight for the solar panels to continue charging the batteries themselves."
Source: Larson Electronics LLC