Disengageable Tandem Axle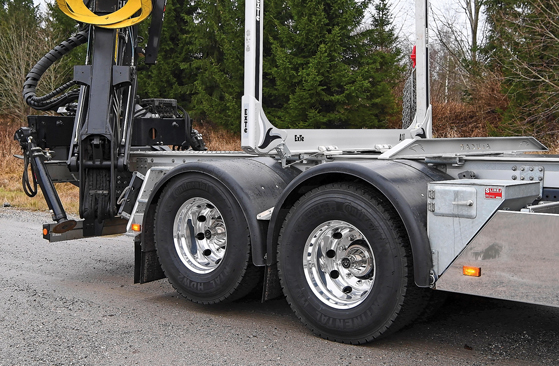 Scania recently introduced the RB662 tandem bogie axle with an optional lift and disengage function. The new option, when engaged, can save fuel and reduces the turning radius. Lifting takes less than 25 seconds and, with normal chassis height and tyres, ground clearance is nearly 70 mm.
"This is a highly desired function from customers in certain applications, and I'm pleased to announce this very neat solution," said Bo Eriksson, product manager, Scania Trucks. "When unladen, the difference in fuel consumption can be up to 6% depending on the operation. That is substantial, especially when considering a return leg of 150 to 200 km, as is often the case with timber trucks in Sweden. And, on top of that, you also get less tire wear and increased maneuverability."
The liftable and disengageable tandem bogie (LDTA) requires air suspension and will increase the trucks curb weight by 60 kg. Most of the fuel savings can be attributed to the reduced friction inside the second (disconnected) axle gearing and only some 10% of the saving derives from reduced rolling resistance. Three bogie capacities – 19, 21 and 26 t – are available and load limits with the second axle lifted are 9.5, 10.5 and 13 t respectively.
Source: Scania