Final Test Phase Before the Start of Series Production for the Mercedes-Benz eEconic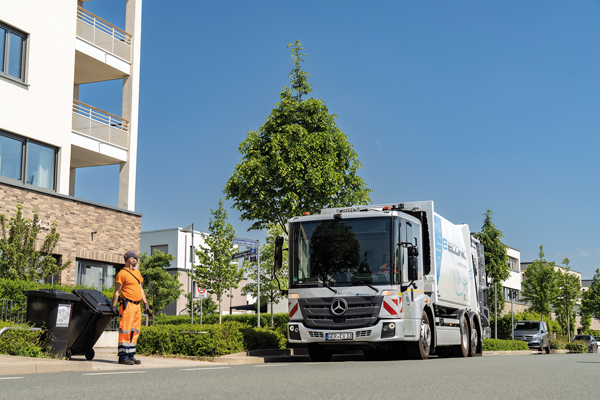 FES Frankfurter Entsorgungs- und Service GmbH is using the near-series e-truck from Mercedes-Benz Special Trucks for municipal waste collection in Frankfurt am Main in Germany.
The fully battery-electric eEconic celebrated its trade show premiere at IFAT – the world's leading trade show for water, wastewater, waste and raw materials management, held from May 30-June 3rd, in Munich. The start of series production at the Mercedes-Benz plant in Wörth is planned for summer this year.
The eEconic has a permissible gross weight of 27 t. As is the case with the eActros for distribution haulage, the drive unit is made up of an electric axle with 2 integrated electric motors and a 2-speed transmission. The batteries of the eEconic series-production model consist of 3 battery packs, each with an installed capacity of 112 kWh and a usable capacity of around 97 kWh. Both liquid-cooled motors generate a continuous output of 330 kW (440 hp) as well as a peak output of 400 kW.
The eEconic scores with its lower noise emissions, especially in urban operation. In addition electrical energy can be recovered through recuperation – a major advantage, especially in the stop-and-go operation of refuse collection. At the end of the daily routes, the batteries of the electric truck can be recharged with up to 160 kW at customers' depots. In addition, the eEconic's vehicle architecture benefits from Daimler Trucks' global platform strategy: The drivetrain of the low-floor truck is based on the Mercedes-Benz eActros, which has been in series production at the Wörth plant since October 2021.
Source: Daimler Truck