XL Fleet Unveils All-Electric Refuse Vehicle at WasteExpo 2022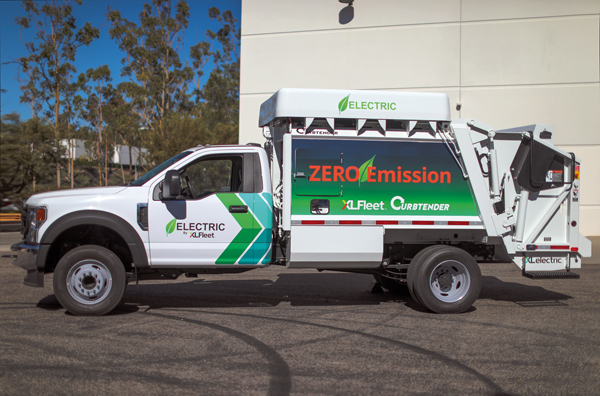 XL Fleet Corp. unveiled its first ever all-electric pre-series unit on the Curbtender Quantum refuse truck at WasteExpo 2022, held May 9-12, in Las Vegas, Nevada. The vehicle was developed in collaboration with Curbtender, Inc., utilizing a Ford F-600 chassis. The EV solution is the first of 3 pre-series vehicles, and the companies plan to build and deliver multiple commercial units in 2022.
The all-electric vehicle features a proprietary swing panel packing mechanism, which allows the packer to clear more trash in a shorter amount of time and with a smaller hopper requirement. The result is a faster, lighter rear loader with an industry-leading payload. The zero-emission propulsion system will also become available on the Curbtender TomCat model, the company's most versatile refuse collection truck.
"The commercial waste management industry is in need of sustainable, cost effective, and energy efficient vehicles," said Kevin Watje, CEO of Curbtender. "The all-electric platforms we're developing with XL Fleet are leading us into our decarbonized future, without compromising durability or performance. As we get ready to deliver our first vehicles, we look forward to strengthening our partnership with XL Fleet and better serving customers throughout North America."
Source: XL Fleet Corp.