GasLOK™ Excess Flow Valve Brings Peace of Mind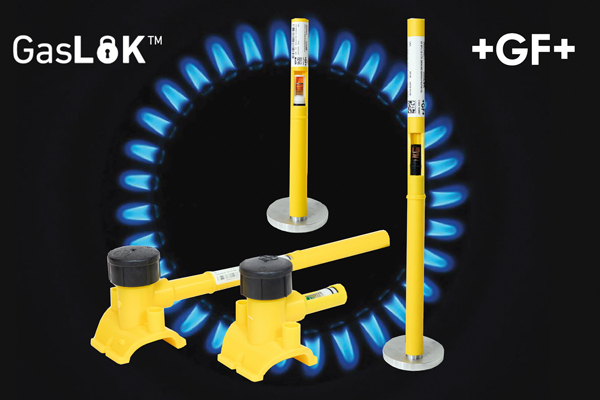 GF Central Plastics recently introduced GasLOK™, a robust and reliable excess flow valve for natural gas service lines. This important safety device creates a safer environment for both customer and service provider, allowing key repairs to take place without unnecessary risk.
In the rare case that a natural gas service line experiences a rupture, the flow of gas to residential or commercial customers may build up behind the damaged area, posing a safety hazard. GasLOK™, a mechanical excess flow valve, provides peace of mind in such an event by limiting flow in response to abnormal pressures.
Available in 3 fabricated options (stick version, cartridge installed inside the outlet of a tapping tee, or a stick fused to a tapping tee outlet), the GasLOK™ EFV contains a spring and a plunger. Under normal conditions, the spring holds the plunger in the open position, allowing gas to flow. But if service line pressure drops suddenly, the change will cause the spring to collapse and the plunger will significantly reduce the flow of gas. GasLOK™ is the bypass type of excess flow valve (EFVB), meaning that it permits a small amount of gas to pass through in its closed position. Once gas pressures are equalized across the valve, the spring will automatically reset, returning the plunger to the open position.
The GasLOK™ EFV is a self-contained, tamper resistant cartridge that is easy to install on either new or replaced gas service lines, without any need for additional parts or tools. The product is robust and long-lasting, with an expected operational lifespan of 50 years. GasLOK™ has met or exceeded the requirements of D.O.T.192.381, MSS SP-115 and ASTM F1802.
GasLOK™ is manufactured in numerous series to accommodate a wide range of service pressures. To aid in selection, GF provides an online service line protection calculator and, as an industry first, the GasLOK™ Series comparison tool. By providing system parameters, users can easily determine the appropriate GasLOK™ series to use. GF's extensive manufacturing capabilities ensure that GasLOK™ EFVs can be delivered to meet project schedules.
Source: GF Piping Systems