Timoney Launches JAWS™ Independent Suspension System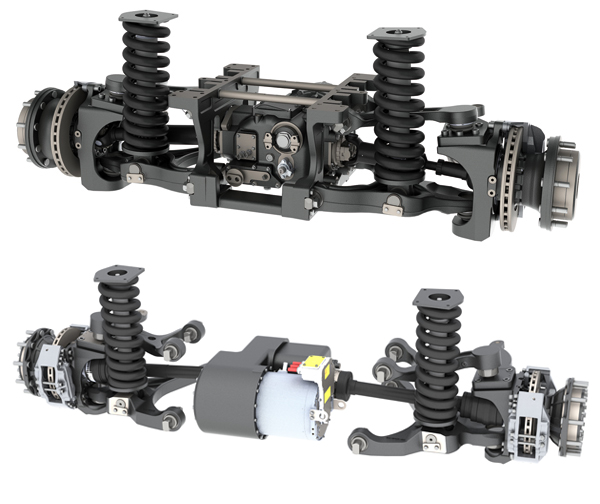 Operators of a wide range of heavy-duty off-highway, fire and defence vehicles could soon be enjoying automotive-level comfort while benefitting from greater productivity and durability, following the launch of Timoney Technology's JAWS™ independent suspension (IS) system.
This evolution of Timoney's class-leading T900 heavy-duty IS features a variety of upgrades designed to improve performance and reduce weight and cost, while adding the latest sensor technology and enhancing modularity across the range. The JAWS™ portfolio is also future-proofed to allow OEMs to quickly respond to the trend towards electrification – whether as a solution to one-off customer requests, or when developing next-generation vehicles – without the need for costly, time-consuming redesigns.
The new range comprises 3 distinct products: 2 modular, mechanical drive solutions, the TIS9 and TIS11; and the TIS9e, a series hybrid powertrain version of the TIS9 that uses an extremely compact high-power-density motor to provide independent power and torque control at each axle.
The TIS9 variants offer GAWR from 7,500 to 9,500 kg for defence applications, up to 11,500 kg for primarily rigid bodied off-highway/fire truck applications. The TIS11 enable defence vehicles to carry up to 11,500 kg per axle, with up to 13,000 kg permissible for heavy-duty vehicles, such as cement and fire trucks.
Increased modularity enables easy customization and integration into various vehicle platforms – this is a key feature of the JAWS™ design, and simplifies the process when OEMs begin designing their next generation of vehicles. With high component commonality between 4x4, 6x6 and 8x8 system variants, machines can be grown or upgraded without the need for major redesign work. The common interfaces of the TIS9 and TIS11 also authorizes the carrying capacity to be increased, following minimal changes to vehicle architecture. Common interfaces between spring/damper and strut options also allow the suspension medium to be optimized and upgraded with few alterations.
The many structural and dimensional similarities of the TIS9/TIS9e also make it possible to quickly convert vehicles from mechanical to electric drive, without requiring large changes in terms of packaging and installation. Compatible with any fuel source that can be used to generate electricity at the appropriate voltage level, the e-axle can be implemented with few modifications being made to the location of existing brackets, mountings and attachment points – and no changes to suspension and hubs.
For operators, the main benefits will be seen in terms of comfort levels. The already superior ride and handling of the system is enhanced thanks to anti-vibration mountings integrated into the cradle, plus differentials mounted on isolators. Together, these features significantly improve operator and occupant comfort and productivity, thanks to less noise and vibration entering the cabin.
The common interface of the new system enables a choice of coil spring and damper or hydrostrut, with suspension travel of up to 400 mm providing superb ride cushioning. With steering geometry optimized to enable the high wheel travel associated with IS systems, and accommodating a wide range of tires up to 16R20, JAWS™ provides ground clearances of up to 488 mm, with its high roll resistance substantially improving handling and control. Now, the roughest terrain and the most-daunting obstacles can be tackled with much less risk of damaging driveline components, with all wheels remaining in full contact with the surface and the driver-controlled differentials promoting optimal tractive effort. CTIS and ABS ready, the system also improves performance on sandy terrain and, of course, on-highway.
Removing the risk of an underpowered heavy vehicle becoming stranded, the new design offers a huge peak output torque of 65,000 Nm to boost tractive effort. Multiple drive ratio options – from 5.38:1 to 10.463:1, or 15.52/79.35 (Hi/Low) for the TIS9e – enable the selection of the optimal gearing for any OEM application.
An extensive range of options is also available, including vehicle widths up to 3 m, sensor pack, integrated cooling pack, multi-axle steering systems, all-wheel-steer systems and transfer cases.
Source: Timoney Technology