Loblaw Places Deposit to Purchase 5 Kenworth T680 Hydrogen Fuel Cell Trucks
Kenworth recently announced Loblaw Companies Limited intends to purchase 5 recently introduced Class 8 zero-emissions T680 hydrogen fuel cell electric vehicles (FCEV), powered by Toyota fuel cell technology. Kenworth first announced the 2025 serial production of the T680 FCEV at ACT Expo on May 2nd, during the keynote address delivered by John Rich, PACCAR vice president and chief technology officer (CTO).
Reducing carbon emissions is an important action Loblaw Companies Limited is taking as it works to fight climate change, according to Wayne Scott, Loblaw's senior director of Transportation Maintenance. Loblaw is Canada's food and pharmacy leader, as well as its largest retailer and private sector employer. The company currently operates 2 battery-electric trucks and plans to decarbonize its entire fleet of more than 160 company-owned day cab trucks by 2030 and achieve net-zero emissions by 2040 for its enterprise operating footprint (including franchise and associate-owned operations). By the end of 2022, Loblaw Companies Limited reduced its greenhouse gas emissions by 8% compared to its 2020 baseline.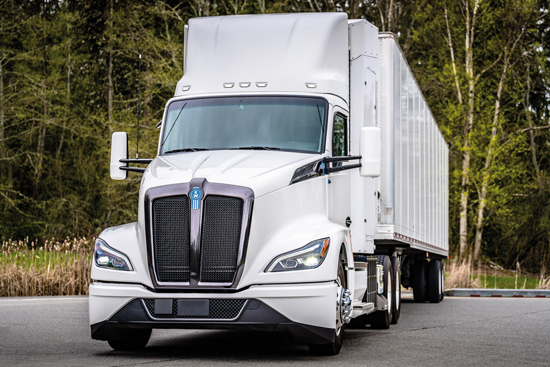 "We're committed to finding solutions that allow us to operate sustainably and protect the natural resources and beauty of Canada," said Mr. Scott. "With a longer driving range compared to battery-electric vehicles, we see hydrogen-powered trucks as an excellent way to reduce emissions for our trucks that travel longer distances. We're excited to be one of the first companies in North America to place an order for these trucks and be an early adopter of fuel cell technology."
"Loblaw Companies Limited is one of the largest companies in Canada and a leader in finding solutions that reduce the environmental impact of their operations to make a positive difference in the communities it serves," said Kevin Baney, Kenworth general manager and PACCAR vice president. "We're thrilled about the company's decision to place a deposit to purchase 5 T680 FCEVs. We look forward to assisting Loblaw's mission to operate more sustainably."
Kenworth and Toyota Motor North America, Inc. collaborated closely on development of the T680 FCEV. Kenworth integrated Toyota's latest advancements in hydrogen fuel cell technology into its flagship T680 on-highway truck. The T680 FCEV has a range of up to 700 km, depending upon driving conditions. The truck is equipped with Toyota's 310 kW Dual Motor Assembly, capable of providing 415 hp continuously for a maximum GCWR of 37,200 kg.
In addition to the T680 FCEV, the current comprehensive Kenworth Driving To Zero Emissions™ program features the Class 8 T680E and medium duty Kenworth K270E and K370E battery-electric vehicles, which also are available for order.
Source: Kenworth Truck Company