Recovered Carbon Black from Enviro in the Tires as Michelin Celebrates 100 years at Le Mans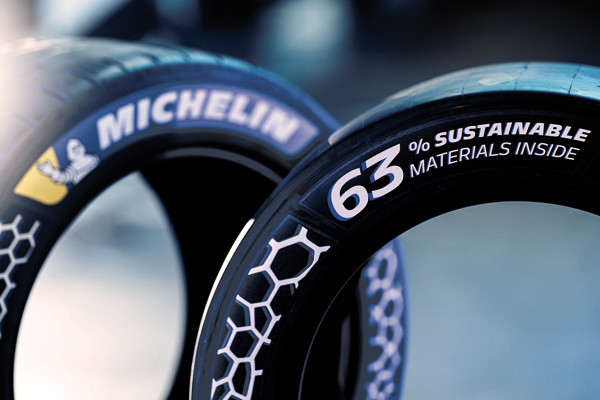 Scandinavian Enviro Systems' major shareholder Michelin has developed a racing tire for this year's edition of the Le Mans 24-hour race that contains a full 63% sustainable materials, including recovered carbon black (rCB) from Enviro's plant in Åsensbruk, Sweden. The tires were used on one of the cars taking part in the famous race's 100th anniversary held between June 10 and 11.
Michelin and Le Mans share a long history – when the first 24-hour race at Le Mans was held on May 27, 1923, tires from the French manufacturer were fitted to the winning vehicle. The close link with motorsport has remained ever since, and over the years Michelin has played a prominent role on racetracks, not least at the famous Le Mans 24-hour race. For 25 consecutive years, from 1998 to 2022, Michelin tires have been fitted to the winning cars.
For this year's edition, Michelin has developed a racing tire that contains environmentally sustainable materials. The new tire will be fitted to the Green GT Mission H24, a hydrogen racing prototype car, but other racing cars will also use Michelin tires containing recovered carbon black from Enviro, including the electric Porsche 718 CaymanGT4e Performance 100% electric. The latter runs on tires containing 53% recovered and renewable materials.
The recovered carbon black in the tires of both cars comes from Enviro's plant where end-of-life tires are given new life using the company's patented pyrolysis technology. Michelin has previously introduced environmentally sustainable tires using recovered and renewable materials, but the tire that were used on the Green GT Mission H24 this year sets a new record for the proportion of sustainable materials.
"We know that our recovered carbon black is of the highest quality and this shows that Enviro's materials can be used even in one of the world's most prestigious and demanding motorsport races. This is, of course, a feather in our cap but also promising for a future where recycled materials and circular methods will play an increasingly important role," said Thomas Sörensson, CEO of Enviro.
Michelin has set the target that all of its tires should be made entirely of sustainable materials by 2050. Michelin has been Enviro's single largest owner since 2020.
Source: Scandinavian Enviro Systems AB