Nominations
---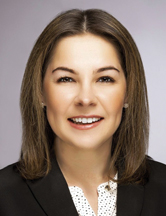 Bentley Systems, Incorporated annonçait récemment que CRN®, une marque de The Channel Company, a nommé Sheena Gaynes dans la liste Women of the Channel pour 2023.
Chaque année, CRN reconnaît des femmes issues d'organisations de vendeurs, de distributeurs et de fournisseurs de solutions dont l'expertise et la vision laissent une marque notable et louable sur l'industrie technologique.
Les Women of the Channel mettent leur créativité, leur réflexion stratégique et leur leadership au service d'une variété de rôles et de responsabilités, mais toutes mettent leurs talents uniques au service de la réussite de leurs partenaires et de leurs clients. Avec cette distinction, CRN rend hommage à ces femmes pour leur dévouement et leur engagement inébranlables en faveur de l'excellence des canaux de distribution.
Madame Gaynes figure pour la 5e fois sur la liste. En tant que directrice des partenariats stratégiques de Bentley pour les intégrateurs de systèmes mondiaux, elle dirige une équipe chargée du développement commercial, des négociations contractuelles et des efforts conjoints de mise sur le marché pour générer de nouveaux revenus d'abonnement. Elle permet aux intégrateurs de systèmes mondiaux de créer des centres d'excellence autour de la technologie de Bentley pour le conseil, les services de données et les solutions intégrées adaptées aux besoins critiques de transformation numérique des propriétaires et opérateurs d'infrastructures. En outre, Sheena Gaynes supervise l'intégration de Cohesive, une activité d'intégrateur numérique appartenant à Bentley, qui rassemble des données industrielles et des experts en actifs pour maximiser l'excellence opérationnelle durable grâce à des services de conseil numérique, des jumeaux numériques et la gestion du changement organisationnel.
Source: Bentley Systems, Incorporated
---
L'Association minière du Canada (AMC) annonçait récemment l'élection de Carolyn Chisholm, directrice générale des affaires externes chez Rio Tinto Canada, au poste de présidente du conseil d'administration de l'AMC pour un mandat de 2 ans. Ayant participé activement à de nombreux groupes de travail, dont les comités exécutif, de relations avec les Autochtones, de la responsabilité sociale internationale et des relations publiques au cours des dernières années, madame Chisholm s'acquitte de ses nouvelles fonctions avec une grande connaissance de l'industrie et de l'AMC. Elle est également une fervente défenseure de l'équité, de la diversité et de l'inclusion (EDI) et du développement durable dans le secteur minier. Au cours des 2 dernières années, elle a présidé l'équipe de direction de l'initiative Vers le développement minier durable de l'AMC.
Carolyn Chisholm remplace David Clarry, vice-président de la responsabilité sociale d'entreprise chez Hudbay Minerals, qui a occupé le poste de président de juin 2021 à juin 2023.
Secteur important de l'économie canadienne, l'industrie minière compte pour 125 milliards $ du produit intérieur brut national et 22% de la valeur totale des exportations canadiennes. Le secteur minier canadien emploie, directement et indirectement, 665 000 personnes partout au pays. Toutes proportions gardées, il s'agit du plus grand employeur du secteur privé à embaucher des Autochtones au Canada et d'un client important des entreprises autochtones.
---
Mack Trucks annonçait récemment la nomination de Stephen Roy comme président. Il sera membre du conseil exécutif du groupe Volvo et relèvera du président et chef de la direction du groupe Volvo, Martin Lundstedt.
Monsieur Roy a occupé des postes de direction chez Volvo Construction Equipment (VCE), plus récemment à la tête de la région nord-américaine de l'entreprise. Avant de rejoindre VCE, il a acquis une vaste expérience au sein de l'organisation nord-américaine des camions du groupe Volvo. Avant de rejoindre l'organisation des camions, il a passé plus de 11 ans chez Volvo et Mack Financial Services, où il a occupé divers postes, notamment ceux de vice-président du développement commercial et de vice-président des ventes et du marketing.
Avant de rejoindre le groupe Volvo en 1996, Roy était responsable des ventes directes de services de leasing et du développement de marchés de niche pour le Vendor Transportation Group de Cargill Leasing Corporation.
Source: Volvo Group
Appointments
---
Linamar Corporation's Skyjack division announce the retirement of Skyjack president Ken McDougall, and subsequent appointment of Charlie Patterson as president, effective January 1st, 2024. The two will be working together over the next several months to ensure a seamless transition for the organization.
Ken McDougall started his career at Skyjack parent company Linamar in 1987 as a tool designer, moving up into various key roles including Global Sales and Estimating manager, and vice president of Operations. His tenure as president also saw the acquisition of 2 telehander lines from Carelift/Zoom Boom and Volvo, a crucial foundation for the company's existing telehandler lineup. More recently, Mr. McDougall led Skyjack's immense global capacity increases. Taking the number of manufacturing plants from 2 in Canada to 5 globally, Skyjack's potential global unit capacity is expected to increase 235% when compared to 2022.
Ken McDougall's tenure also saw a number of successful Skyjack product launches including ELEVATE, updated boom and vertical mast lines.
"It has been an honour to serve as Skyjack president during this period of immense growth and transformation. 2023 marks my 36th anniversary with Linamar and Skyjack, and over those years I have had the great pleasure of working for and with countless talented and dedicated individuals," he shared. "It has been an honour to lead the Skyjack team and I am confident that with his experience, knowledge and leadership skills Charlie Patterson will do an outstanding job in moving Skyjack forward."
Current vice president of International Operations, Charlie Patterson started with Skyjack in 2000 as UK Sales manager and went on to head the UK and European operations for the organization. Mr. Patterson oversaw the opening of Skyjack offices in the UK, Germany, France, Sweden and Australia and previously led sales in Asia-Pacific.
"I am thrilled and honoured to take on the role as Skyjack President," he shared. "Ken has done an exceptional job moving Skyjack forward to date, and I look forward to continuing to build upon that momentum. As always Skyjack will be dedicated to being easy to do business with, while developing simple and reliable solutions for rental companies worldwide."
Source: Linamar Corporation
---
Heavy-duty vehicle lift manufacturer Stertil-Koni USA Inc. recently announced that Scott Steinhardt has been promoted to the new created post of general manager. He will be responsible for managing Stertil-Koni Sales, Marketing, Operations and Service departments.
The announcement comes at a point in time in which Stertil-Koni has increasingly dominated the heavy-duty vehicle lifting industry across multiple sectors in North America, including transit agencies, public works departments, municipalities, corporate fleets, state agencies, the U.S. Military, aviation and more. It also follows a year of tremendous growth in which Stertil-Koni achieved record lift orders, sales and installations.
"To be successful in the heavy-duty vehicle lifting industry requires vision, fortitude, plenty of hard work and an indomitable spirit to deliver exceptional customer service – every time. Whether it is embracing new technologies, championing new product development, building successful teams or winning competitive bids, Scott has demonstrated these attributes time and again. He has made a tremendous contribution to the growth of our company across multiple fronts in the relatively short period that he has been with Stertil-Koni," stated Stertil-Koni president, Dr. Jean DellAmore.
Scott Steinhardt joined Stertil-Koni in early 2022 as vice president of Sales and was recently promoted to vice president of Sales & Marketing. His career features more than 27 years of top industrial sales, marketing and management experience.
Source: Stertil-Koni