Unimog at RETTmobil 2023
Mercedes-Benz Special Trucks showcased innovative firefighting technology at RETTmobil – the leading European trade fair for rescue and mobility, held May 10-12, 2023 in Fulda, Germany.
On display, was the TLF-W forest-fire combination pumper based on the Unimog U 5023, which is equipped with a wide range of state-of-the-art specialist firefighting equipment. By virtue of its technology, it is suitable for efficiently combating dangerous vegetation and forest fires. Its applications also include disaster relief, for example in floods and critical high water situations.
The highly off-road capable and compact Unimog has been appreciated for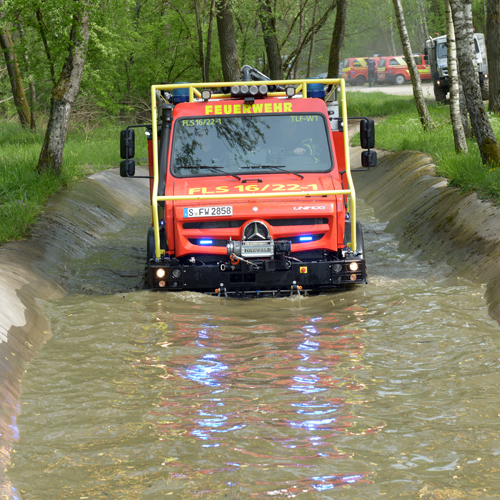 many decades by fire departments worldwide as a go-to vehicle for hazardous forest fires in rough terrain, where the safety of firefighters should always have top priority. The all-wheel drive combination pumper to be exhibited at RETTmobil 2023 has been designed in accordance with DIN EN 1846 and is based on the AGBF/DFV expert forest-fire truck recommendation "Waldbrand-TLF". The first 2 units of this new model will be used by the fire directorate in Stuttgart, the state capital of Baden-Württemberg. They are based on chassis of the off-road capable Unimog model series. Its standard all-steel crew cab can comfortably accommodate a crew of 4 with protective clothing and equipment.
The fire truck-specific body is secured to the chassis with a 3-point bearing. Together with the tried-and-tested Unimog portal axles and the low center of gravity of the body, this offers the greatest possible maneuverability and means that the Unimog U 5023 TLF-W can get to its deployment site as quickly and safely as possible – and of course it can leave just as quickly and safely as possible in case of imminent danger. A front spray bar and spray nozzles in front of all 4 wheels and on the branch deflector of the cab ensure the protection of the vehicle crew in forest fire deployment. In particularly critical situations, the team has an auto-protection system at their disposal, which is supplied with 230 l of water from 2 separate safety tanks. At the front of the vehicle there is a 50 kN winch, which can also be used to recover the vehicle in an emergency.
Source: Daimler Truck AG