From Less to Zero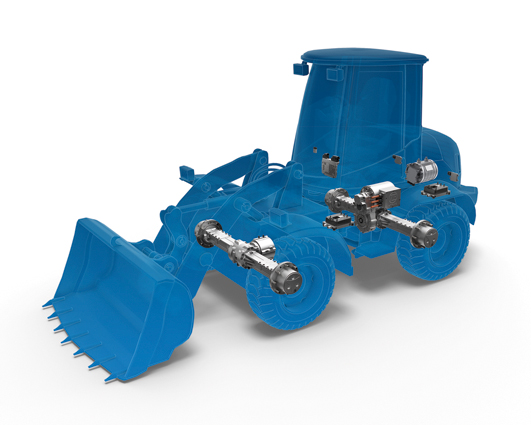 The construction industry is undergoing a significant evolution, resulting in the need for high degrees of flexibility and rapid development cycles.
ZF was poised to address those challenges at CONEXPO-CON/AGG 2023 in Las Vegas, last March, where the company demonstrated how its expertise in driveline technology and intelligent system solutions make them the ideal partner to meet these demands. ZF's technologies contribute to low or zero emissions, offer increased productivity at construction sites.
ZF's newly developed eTRAC electric drive system combines the performance and productivity found in traditional drivelines with important benefits that electric systems can offer. Thanks to its modular design, this new range of electric drives can easily be adapted for construction applications, providing zero emissions without compromising performance, low noise level and compact installation space.
Compact vehicles such as loaders, site dumpers or telehandlers are the early adopters of e-mobility solutions for the construction equipment market, particularly in urban or emission-regulated areas. The eTRAC driveline system – with its range from 20-60 kW continuous power and for 48/96/650-volt e-motors – provides the necessary zero-emission drive required for these vehicles.
ZF is a full system supplier, providing both the electric drive as well as a combination of front and rear axles, inverters and an eDCU (Electric Drive Control Unit). This best-in-class solution achieves the same output as conventional drivetrains, without compromising traction and end speed performance.
ZF's newly launched eCD system for backhoe loaders consists of a 2-speed powershift transmission with integrated parking brake, electric motor, and inverter. To meet increasing customer demand, ZF also offers the ePTO to operate the working hydraulic.
The system can also be optionally adjusted with an axle disconnection. The system can be scaled up to peak torque 850 Nm and continuous power of 80 kW. Three power classes of ZF's electric central drive system – eCD50, eCD70 and eCD90 – are available to cover different vehicle sizes for targeted applications. The electric central drives can easily be adapted for various vehicle applications including mobile excavators, telehandlers, or forestry equipment.
To complete the range of electric drives for larger construction vehicles, ZF is offering the eTRAC eCD110-210 series for mid-sized wheel loaders, consisting of an electro-mechanical powershift transmission as well as one e-motor for traction and ePTO. An electric drive control unit for overall system performance and power management completes the system. With a 650 V operating voltage, the system can be scaled up to 120 kW continuous power while the ePTO ranges from 30 to 70 kW continuous power. Thanks to its modular design, the system can be integrated into additional vehicle applications and can be driven independently from the power source. The company´s solutions can be adapted for both battery-electric vehicles and fuel-cell battery electric vehicles, which will also play a significant role in the future of construction equipment.
In addition to e-mobility solutions, a transition towards low carbon fuels is a rapidly growing market solution for decarbonizing large construction equipment. While batteries can serve as a suitable source for electric compact and medium vehicles, alternative fuels are a promising power source for medium and large construction vehicles, helping to reduce their CO2 footprint.
Efficiency will play an even more important role in the future. This is due on the one hand to steadily rising energy costs, on the other hand to a lower energy density of alternative fuels which in turn, require higher storage volumes.
Despite all the different power sources entering the market recently – be it hydrogen, eFuels or, for example, biodiesel – conventional drives with powershift and power split transmissions will remain to be the backbone of the vehicle´s system architecture.
No matter the power source - conventional diesel or alternative fuels, ZF's proven ERGOPOWER powershift transmission and highly efficient cPOWER CVT technology together can provide manufacturers with the right driveline technology, independent from the power source. And both offer impressive fuel savings: ERGOPOWER can offer fuel savings of up to 15%, while cPOWER, with its fully power-split CVT technology, can provide savings of up to 25% compared to standard ERGOPOWER drives.
Source: ZF Group