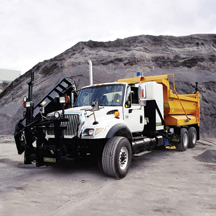 Ottawa Equipment & Hydraulics
Signs-On with Larochelle
Ottawa Equipment & Hydraulics (OEH) OEH recently announced a partnership with Larochelle Equipment Inc., a Canadian manufacturer of snow & ice control equipment. As of mid-August 2005, OEH will be able to proceed with the installation & service of Larochelle truck mounted snow equipment in its Edinburgh street workshop located in the Sheffield industrial park in Ottawa East.
OEH is a distributor of the most reliable hydraulic equipment available anywhere. In operation since 1992, it is proud to offer a wide range of high quality solutions, including forklifts, cranes, loaders, excavators, concrete pumps as well as other specialized equipment.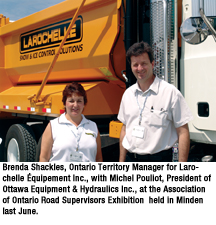 OEH is the authorized dealer of Komatsu, Manitou, Palfinger, Yanmar and Alliance lines of products. OEH offers a complete service for repairs on any type of equipment from scheduled maintenance to complete overhaul of cranes, boom trucks, forklifts, and utility trucks. Its highly qualified personnel can perform any repairs in the hydraulic field - hydrostatic, electric, welding and fabrication.
In operation since 1956, Larochelle Equipment Inc. is a solid, third generation family-owned and operated company, reputable for its strong engineering and manufacturing experience. Larochelle provides public works departments and contractors a complete line of snow & ice control products such as U-shaped dump spreader, V-box hopper spreader, snow plows, wing plows, underbody scraper and pre-wetting spreader system.
Source: Phil Larochelle Équipement Inc.,
Ottawa Equipment & Hydraulic Inc.