The New TM 227 Snow-Blower From RPM Tech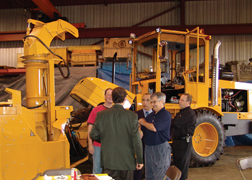 R.P.M. Tech Inc., a manufacturer of industrial snow blowers and off-road vehicles established in 1962, is always looking into improve its products and listening to its customer demands.
Lately, the engineering team at R.P.M. Tech, has developed a new generation of self-propelled snow blowers, the TM 227.
This unit has been designed to replace the existing DV 904/1104 that have been so popular over the years. The basic tractor is still a Ford County with a newly developed cab. The cabin is surrounded with industrial-grade safety glass, which complies with governmental specifications, to improve visibility for operators.
A tilt steering column, a multi-functional joystick, an easy to read dashboard, as well as a very low noise level of under 75 dB, will provide a comfortable working environment.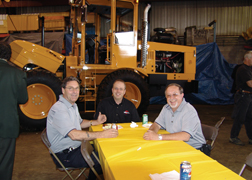 Powered by a Ford 110 HP engine, a hydrostatic transmission, and equipped with Nokia tires, as well as a 19 inch longer frame, the County is now a much more pleasant ride.
The TM 227 is a two-phase snow-blower with 27 in. augers driven by a 350 HP engine and a marine PTO with a torque rating of 4500 PSI. The augers and the chassis are specially fabricated for rigorous winters. The augers can also be fitted with ice breakers as an option.
Equipped with a 42 in. diameter drum and a 5 bolted-on blade turbine, the TM 227 has a capacity of up to 3000 tons/hour for a very fast and well compacted loading. It can also project the snow up to 150 ft through the side-casting system depending on conditions.
The TM 227's mechanism is propelled by industrial chain encased in an oil bath basin for lubrification. The 16 in. diameter chute with a telescopic system, including a 300 degree rotation produces a projection of 50 ft for convenient truck loading.
The TM 227 is available as a new machine or refurbished with the new cab and features from and existing DV chassis.
Source: R.P.M. Tech Inc.