Signalisation Post Driver
Magneto-Laval inc., a member of the Magneto Group, is proud to team up with Garco inc. in the fabrication of post drivers. After many years of research, development and improvement, the post driver is finally ready for the market.
The first unit has been sold and delivered two years ago. The results obtained since, demonstrate that the level of performances attained is most satisfying. With a regular follow up over the past 2 years, we can now claim a level of 95% efficiency and more.
This unit, specifically dedicated to the installation of signalisation posts can be adapted on a new chassis or an existing chassis (under certain conditions).
Before the advent of this machine, two different tools were required to do the work, one for drilling, which was not designed for this type of application, the second for hammering. That used to require, most of the time, handling both tools with physical assistance from the workers.
The G28F drilling hammer from Garco, exclusive in its domain, was designed specifically for the installation of road post signs.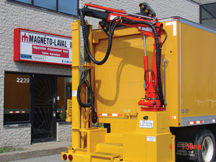 The G28F can drill, when required, without having to be moved in order to insert other tools. It was designed to minimize the physical efforts of the workers.
The hammer, fixed to the mast sliding system, gives an incomparable stability and practically instantaneous levelling.
It is assisted by two hydraulic jacks of 9 cm (3,5 in) in diameter for hoisting, giving it maximum power for hammering or drilling.
A hook applied on the hammer's carrier allows the extraction of a broken post safely and without any effort from the operator.
The crane can handle the mast over a rotation of 180° to the sidewalk.
A hydraulic stabilizer permits to work in total security by keeping the truck stable.
All the hydraulic cylinders are equipped with safety valves, preventing untimely movement, in the event of a hydraulic circuit failure.
A state of the art hydraulic system developed and conceived by Groupe Magneto is used for all functions.
On the mast, a foldable mini platform can serve as an elevator to change panels up to 3,65 m (12 ft) high.
The G28F Drilling Hammer from Garco is entirely manufactured in Montreal and sold exclusively, with the post driver unit, through Magneto-Laval Inc.
The complete installation of a sign post can be done within 6 to 10 min regardless of the type of ground (concrete, rock, asphalt or other). The operator no longer needs to lift heavy, difficult to handle, tools.
After using the prototype for over two years, our client declared "Ever since I own this unit, backaches are a thing of the past. Time losses have diminished considerably."
The post driver will be on display at the Expo Grands Travaux, at booth #3027, on September 22-23, 2006, at the Olympic Stadium in Montreal.
Source : Magnéto-Laval Inc.,
Pierre Benoit, 450-687-4040