Nominations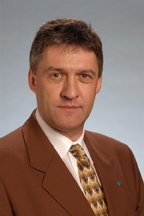 Horst Wasel, présentement vice-président de Prime Energy, vient d'être nommé vice-président, Compressor Technique Rental au sein de la filiale Portable Air d'Atlas Copco.
Horst Wasel s'est joint à Atlas Copco en 1983. Depuis 2003, il a été vice-président au sein du secteur d'activité Rental Service, à la direction de Prime Energy.
Monsieur Wasel est diplômé en génie mécanique. Entre 1983 et 1994, il a occupé divers postes auprès de la filiale allemande Atlas Copco Germany. En 1994, il était chez Atlas Copco Energas. En 1999, il devint directeur général d'Atlas Copco Rotoflow aux États-Unis. En janvier 2001, il est retourné en Europe pour diriger la filiale hollandaise Atlas Copco the Netherlands avant de retourner, deux ans plus tard aux États-Unis pour diriger Prime Energy.
Durant la période de transition précédant la vente du secteur d'activité Rental Service et l'intégration planifiée de Prime Energy à la division Atlas Copco Portable Air, monsieur Horst continuera de diriger Prime Energy.
Combiner sa nouvelle mission avec sa position actuelle assurera une efficience optimale durant le processus d'intégration.
Source: Atlas Copco
---
RSC Equipment Rental a recueilli plus de 6300 $ au profit de la Fondation de la recherche sur le diabète juvénile (FRDJ) en organisant une série de lave-auto à 9 de ses magasins d'Edmonton, de Red Deer, Calgary, Saskatoon, Fort McMurray, Sarnia, Lethbridge et Prince Albert, soutenant ainsi la dernière levée de fonds de la FRDJ "Marche pour la guérison du diabète". Le don incluait 1675 $ recueillis par RSC lors du tirage de billets pour la troisième partie de la finale de hockey de la Coupe Stanley lors de laquelle les Oilers d'Edmonton affrontaient les Hurricanes de la Caroline.
"Ceci constituait une bonne façon pour nous de contribuer à la FRDJ", disait Richard Spracklin, directeur des ventes et du marketing au siège social de RSC à Sherwood Park, en Alberta. "Nous sommes fiers de l'attention que nous portons envers nos clients et notre communauté, et nous sommes exceptionnellement fiers de la participation active de nos employés."
RSC Equipment Rental compte 470 magasins en Amérique du Nord, incluant 20 magasins au Canada.
Source: RSC Equipment Rental
Appointments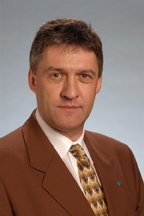 Horst Wasel, currently vice president, Prime Energy, has been appointed vice president, Compressor Technique Rental within the Atlas Copco Portable Air division.
Horst Wasel joined Atlas Copco in 1983. Since 2003, he has been a vice president within the Rental Service Business Area leading Prime Energy.
Horst holds a degree in Mechanical Engineering. Between 1983 and 1994, he held various positions within Atlas Copco Germany. In 1994, he was packaging manager for the Turbo machinery Package Assembly division within Atlas Copco Energas. In 1999, he became general manager of Atlas Copco Rotoflow in the United States. In January 2001, he moved back to Europe to become general manager of Atlas Copco the Netherlands. After two years he returned to the United States to head Prime Energy.
In the transition period preceding the earlier announced possible divestment of the Rental Service Business Area and the planned integration of Prime Energy with the Atlas Copco Portable Air division, Horst will continue to head Prime Energy. Combining his new mission with his current position, will ensure optimal efficiency during the integration process.
Source: Atlas Copco
---
RSC Equipment Rental raised more than $6,300 for the Juvenile Diabetes Research Foundation Canada by staging a series of car washes at nine of its stores in Alberta, Saskatchewan and Ontario in support of JDRF's recent "Walk to Cure Diabetes" fundraiser. The donation included $1,675 raised by RSC when it raffled off tickets to game three of the Stanley Cup Finals that included the Edmonton Oilers and Carolina Hurricanes.
"This was a great way for our people to contribute to JDRF Canada," said Richard Spracklin, director of sales and marketing at RSC's Canadian headquarters in Sherwood Park, Alberta. "We pride ourselves in being customer and community focused, and we were exceptionally pleased by the active participation of our employees."
Car washes were held at RSC stores in Edmonton, Red Deer, Calgary, Saskatoon, Fort McMurray, Sarnia, Lethbridge and Prince Albert. Radio advertising was used to promote the events, and live radio broadcasts were made from seven of the nine participating stores.
These locations are part of RSC Equipment Rental's 470-store North American network, including 20 stores across Canada. The company offers a complete range of rental equipment for construction and industrial jobsites, municipalities and do-it-yourselfers. RSC currently employs approximately 230 people in Canada and is the second-largest company in the North American construction and industrial equipment rental market.
Juvenile Diabetes Research Foundation Canada is an affiliate of Juvenile Diabetes Research Foundation International, which was started in 1970 by a group of concerned parents of children with juvenile (Type 1) diabetes. They saw a need for an organization dedicated to finding a cure for this potentially deadly disease.
Since then, JDRF has raised more than $900 million for research projects throughout the world. Each year, more than 45,000 people across Canada, including representatives from more than 600 corporations and families affected by the disease, Walk to Cure Diabetes.
Source: RSC Equipment Rental