This Trooper Treads Lightly
On The Ground, and the Environment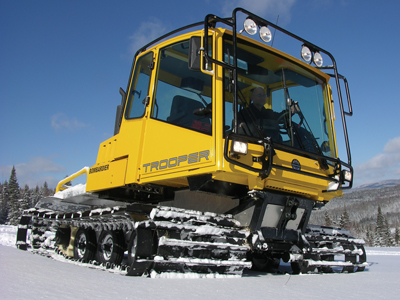 Limiting ground pressure is one of the keys to designing a vehicle able to move efficiently over soft surfaces like sand, mud, or snow, and tracks are one of the best technologies available for reducing ground pressure. That is one reason why Christian Martin, the sales and marketing director of Camoplast, Inc. of Granby, Quebec, says the future of the all-terrain vehicle industry is tracked. And, he should know, because Camoplast is North America's leading manufacturer of tracked all-terrain utility vehicles.
"Fully loaded, one of our Trooper vehicles weighs in at 5220 kg," Mr. Martin explains, "yet when equipped with a set of 112 cm wide tracks, it has a ground pressure of only 63,1 g/cm2. Compare that to the 600 to 850 g/cm2 ground pressure of an average man walking and you can see why the Trooper easily can traverse terrain that a man literally cannot walk through."
When you consider its 1369 kg payload, it is easy to see why the Trooper is widely used to move men and equipment through some of the most inhospitable climates to reach some of the most inaccessible places on earth. Camoplast vehicles, including the Trooper and its larger and smaller siblings, can be found supporting everything from mineral exploration and power line inspection to back country search and rescue operations all over the world.
Camoplast describes the Trooper as "a rugged, lightweight four-season tracked carrier for snow and rough terrain that can be counted to perform in the most challenging conditions. It is particularly effective in deep snow, high altitude and extreme steep slope conditions."
The Trooper has a four-person cab, and is offered with a choice of five different track options, including both steel and rubber construction. Other options include blades, winches, and customized cabs to suit a range of special applications.
It is equipped with a long-travel independent suspension with rubber damping to smooth out the ride. The tracks ride on eight pneumatic tires that add additional shock damping to the system.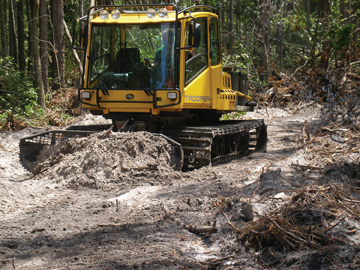 'Rugged' does not translate into 'Spartan'
The Trooper cab is heated, comes with adjustable front seats, seatbelts all around, front and rear wipers, and even a sunroof and coat hangers. It can be upgraded with additional lighting, brush guards, premium seating, and an AM-FM stereo radio with CD player and multiple speakers and air conditionning.
"While it is civilized, the Trooper really takes over when ground conditions exclude the use of rubber-tired vehicles and when high-speed transport is required," Christian Martin says. "The power to weight ratio of this transporter insures peak performance in challenging conditions."
The 'power' part of the power to weight ratio is supplied by a four-cylinder, 4,4 l Perkins 1104C-E44T diesel engine that produces 115 hp at 2400 rpm, and 325 ft-lb of torque at 1400 rpm. A Saur-Danfoss series 90 hydrostatic transmission delivers engine power to a Fairfield planetary final drive. Each track is independently microprocessor-controlled to provide vehicle steering.
"Considering the kinds of places these vehicles spend most of their time, reliability and ease of maintenance are both critical," Christian Martin says. "And so is the availability of service and spare parts literally anywhere in the world. Those are all reasons why we settled on the Perkins diesel to power the Trooper and its siblings."
"The 1104C family is a well-proven design that's in service all over the world," adds Marc LePage, development manager for Master Distributor Perkins Quebec & Maritimes (PQM). "It has standard features like single-side servicing, and a 500 hour service interval that make it ideal for tough, demanding applications like the Camoplast Trooper."
The engine is U.S. EPA Tier 2 and E.U. Stage II emissions compliant, another factor that is important to Camoplast.
"Many of the all-terrain vehicles in the fleet today are nearing the end of their useful lives," Mr. Martin says. "The Trooper and its siblings represent the next generation of this technology, and that includes both improved cross-country performance, and greatly reduced emissions.
"Our goal is to tread lightly on the ground, and have a minimum impact on the environment," he adds, "and the Perkins-powered Trooper is one of many ways we are tracking the future."
Source: Camoplast Track Vehicles