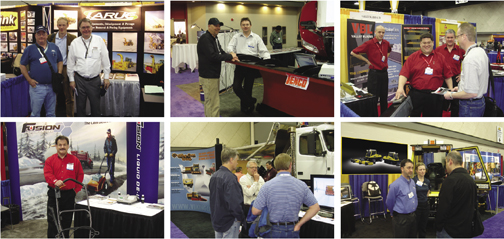 Kentucky Snow Derby!
Again the APWA Snow Expo was a tremendous success, despite warm weather and spring flowers.
As the level of technology in equipment and materials grow, so too does operational management and planning. With the benefit of a dedicated event, with expert presentations and educational conferences, this knowledge can be freely and passionately discussed. Surprisingly, Canada does not have such an expansive forum for the subject of snow and ice control, so it was hardly a surprise to see so many 'tourists'.
According to Mark Kenny of MRDC in Oromocto, New Brunswick, "I like to ensure our supervisors and crews get the chance to see what is happening beyond our localized operational area. This has not only been a well earned break after a tough winter, it also has been an exceptional opportunity to meet and converse with experienced professionals from all over the world."
This year's event was also significant for the strong representation of the eurospreader industry. According to Lucas Hooijenga of Schmidt North America, "We have been collectively amazed by the lack of technological development of domestic spreaders. With the growth in budgetary and environmental considerations, U.S. customers are turning to Europe in ever growing numbers for the expertise and innovation they require."
Representatives from the world's largest spreader manufacturers, Epoke, Giletta, Nido and Boschung were in attendance. "We have found this a very rewarding event. Although we know many customers from Canada and the U.S., we had not participated in this conference before. I believe it to be one of the most enjoyable and informative gatherings we have attended," acknowledged Guido Giletta, managing director of Giletta SpA.
In this age of high-speed Internet and wireless connectivity, the urge to connect on a personal level is growing. The organization and planning of this APWA event enhances that experience and the positive nature a gathering of professionals affords. Not every event can be fitted into a busy agenda, but a few are difficult to overlook - and this is one of them. Pavement maintenance and SNIC are two key areas of infrastructure support that really benefit from this type of fellowship. Check your local and regional associations for these and related opportunities that can benefit you, your crews, and your planning and execution. (R.H.)
Resource: American Public Works Association