Innovative Heat Storage Solution for Energy-Efficient Refurbishment of Residential Neighborhoods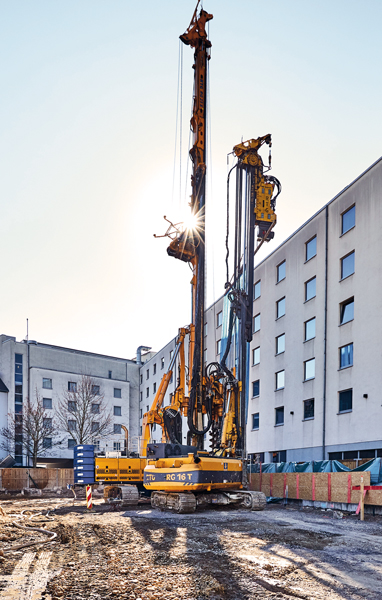 The question of how to best reconcile sustainable technologies in builtup areas with affordable living space is currently being examined in the German city of Jena. As part of a research project, the regional growth initiative "smood – smart neighborhood" is working on innovative solutions for the energy-efficient refurbishment of older neighborhoods.
The go-ahead for this initiative – and for BAUER Resources GmbH as a partner in the joint GeoHeatStorage project – was given in July 2019. The aim is to structurally develop gravel aquifers near the surface for large-scale, cost-effective heat storage with the capacity to provide seasonal heat storage to an entire neighborhood. For this purpose, Bauer Resources, in collaboration with Bauer Spezialtiefbau, is developing a standardized and cost-efficient specialist foundation engineering method for construction of the cut-off wall for geothermal heat storage. What makes this project unique: The use of a natural aquifer for heat storage has never been realized for a whole neighborhood with current methods.
After conducting extensive preliminary ground surveys, the mixed-in-place method (MIP) developed by Bauer proved to be particularly suitable for this project, building on its track record of 2.6 million MIP walls on about 650 sites. The method gets top marks not just from an economical and technical point of view but also in terms of ecology.
Compared to the jet grouting method, this achieves a reduction in the amount of construction materials as well as a substantial decrease in the need for disposal of excavation material. For the first time, there is a viable option for a sustainable and economical heat supply of existing neighborhoods, not just making an important contribution to the energy revolution but also to climate protection.