Liebherr T 274 – the New 305 t Mining Truck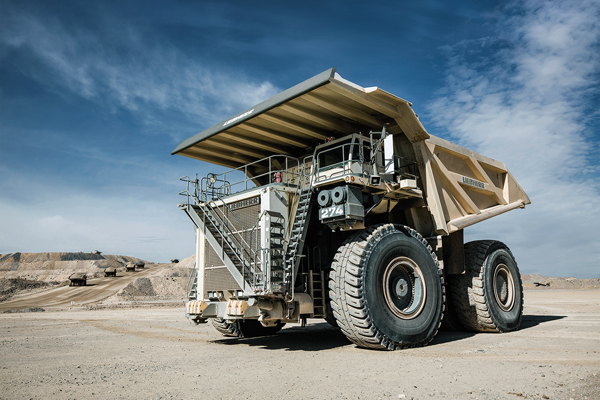 Liebherr recently launched the T 274, a 305 t haul truck. It bridges the gap between the highly successful T 284 (363 t) and the upgraded T 264 (240 t).
The T 274 provides fast cycle times, higher production rates, low fuel consumption, and a low cost per tonne. It follows the same base design as the T 284, benefitting from its decades of field experience. The T 274's mining-optimized components are developed, manufactured, and controlled by Liebherr following our vertical integration model to ensure top performance and reliability for the entire machine.
The Liebherr T 274 is powered by a 3,65 hp engine and features the Litronic Plus AC Drive system.
Speed on grade is a major contributor to fast cycle times. The Liebherr Litronic Plus AC Drive System improves cycle time efficiency by providing continuous uphill speed, differing from traditional mechanical drive trucks that require shifting of gears.
The T 274 is equipped with double A-arm suspension, which keeps optimal ground contact of the tire within the whole suspension stroke, reducing the tread and wear with optimized camber and toe angle.
Pairing the Liebherr T 274 with the Liebherr R 9800 hydraulic excavator provides the customer with a highly versatile and productive fleet. The fast swing times of the R 9800 will load the T 274 with 4 bucket passes. The T 274 is also compatible with the brand new R 9600, the successor to the thoroughly proven and iconic R 996B.
Liebherr offers an array of specific solutions for customers working in extreme environments. Specific solutions have been created to protect the components and help customers operate machinery in temperatures as low as -40°C. Liebherr also offer a solution to enable the trucks to be operated at altitudes between 3,500 and 5,000 m above the sea level,
The Liebherr Trolley Assist System is available as an option on the T 274 as an effective first step on the road to zero emission mine sites of the future. Using an overhead pantograph to connect the electric-drive system to the electrical network lowers diesel fuel consumption and truck fleet CO2 emissions.
source: Liebherr