IFAT Munich 2022: A Strong Restart for Climate Protection
Be it plastics, building materials or water: sustainable resource management solutions are essential for environmental and climate protection – and can be found at IFAT Munich. The World's Leading Trade Fair for Water, Sewage, Waste and Raw Materials Management took place from May 30 to June 3, 2022. A total of 2,984 exhibitors and around 119,000 visitors confirmed the fair as the most important platform for environmental technologies.
"A huge exhibition, concentrated knowledge transfer, networking – IFAT Munich 2022 served as pure inspiration and drives the sustainable transformation of industries and climate-resilient communities," said Stefan Rummel, managing director of Messe München.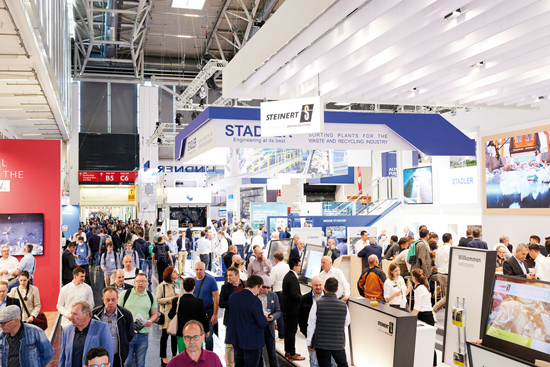 "The show has approached pre-coronavirus levels – reflecting the great potential of environmental technologies and confirming its position as the world's leading platform for water, sewage, waste and raw materials management." added Dr. Johannes F. Kirchhoff, chairman of the IFAT Munich Advisory Board. "The high international attendance at the trade show during this challenging time was impressive. It's great to see IFAT making such a strong restart, as it is a very important, sustainable driver for circular economy and the environmental industry."
IFAT Munich covered a total of 260,000 m2, occupying all 18 halls and a large part of Messe München's outdoor area. Exhibitors came from 59 countries and regions and visitors from 155 countries traveled to Munich. In comparison with the previous event, especially the strong participation from China and Russia was missing. There were 15 international joint pavilions from Europe as well as Japan, Canada, South Korea and the U.S.
"IFAT has not lost its attractiveness for the circular economy branch and, in the future, will continue to uphold its importance as the world's leading trade fair for the sector," explained Max Köttgen, member of the management board at REMONDIS.
"I am very impressed with the size of the show, the number of visitors and the unparalleled expert platform, and I am delighted that we could have a number of relevant discussions with customers and partners," said Anja Eimer, head of Water & Waste Water at Siemens.
"The trade show is the most important international fair to reflect industry trends based on our sustainable product and service innovations," said Ottmar Steinebrunner, managing director Sales & Service Europe and Americas at Bucher Municipal
Source: Messe München