A World First: the Innovative BAUER Cube System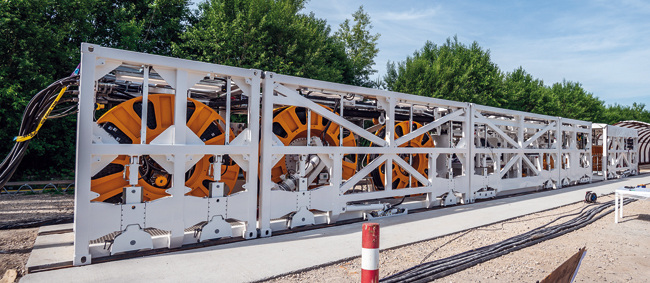 As part of its "Bau Erleben" days at its headquarters in Schrobenhausen, Germany, BAUER Maschinen GmbH presented a true global innovation that will open up entirely new opportunities for the future construction of diaphragm walls: the BAUER Cube System.
This innovative cutting system was developed in collaboration with a strategic partner, the Belgian tunnel construction expert Denys.
"It is designed as an electrically-powered cutting system which builds on a great deal of proven expertise from Bauer but features an entirely new construction," explained Dr. Ruediger Kaub, managing director of BAUER Maschinen GmbH.
The entire system was developed precisely in container dimensions. This means it can be used without any problem in microtunnels with small diameters of just 3.8 m which makes it ideal when working in a densely populated area.
The impact of construction sites on traffic, businesses and residents are minimized because the Cube System only requires a comparatively small access point to an existing microtunnel or auxiliary tunnel. The actual work is carried out underground, essentially invisibly. The electric drive system also considerably reduces the ecological disturbance of a cutting site.
When it comes to logistics, the system's compact dimensions are a major advantage. The BAUER Cube System is as easily transported to its place of deployment as conventional containers.
The first successful tests of the prototype under the most realistic conditions possible have already been carried out on the Bauer plant grounds in Aresing, near the company headquarters in Schrobenhausen, Germany. This test phase will continue for the next 4 to 6 months, which in principle means that an anticipated practical application will be possible towards the end of 2021.
Source: Bauer Maschinen GmbH