HammerHead Next-Generation Bluelight LED Lining System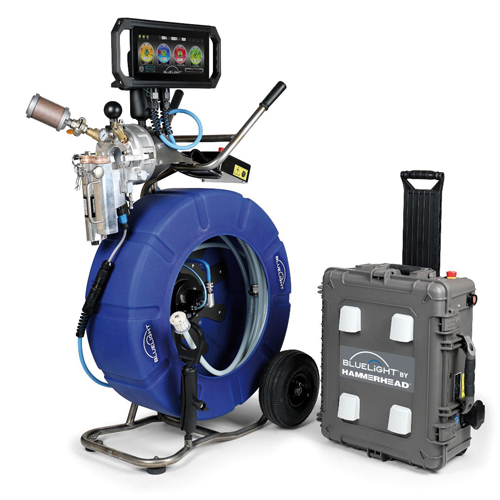 HammerHead® Trenchless, a division of the The Toro Company, has released its newly redesigned Bluelight LED cured-in-place pipe (CIPP) lining system. It features user-friendly enhancements and expanded capabilities making it an ideal solution for the rehabilitation of laterals and small sewer pipes 76 mm to 254 mm in diameter.
The innovative Bluelight technology empowers CIPP lining professionals by alleviating the time pressures of other CIPP systems and curing methods. The specially formulated single-part resin only cures under light in the "blue" wavelength, giving installers significantly longer working time between liner wet-out and curing. Once installed, the automated curing system pulls the LED light head through the liner, curing the resin almost instantly – as fast as 1.6 m/min.
"The original Bluelight system was, and still is, a game-changer in lateral rehab," said Josh Hood, Sr. product manager at HammerHead Trenchless. "But our new design incorporates feedback from installers around the world to make it even more user-friendly and efficient to maximize productivity on every lining job."
In 2018, HammerHead Trenchless announced its strategic partnership with Per Aarsleff Pipe Technology of Aarhus, Denmark, to be the exclusive provider of the Bluelight LED system outside of Europe and Russia. The HammerHead Bluelight system has been sold and serviced in North America since 2019. The new product will be manufactured at the HammerHead facility in Lake Mills, Wisconsin. The new Bluelight system will be available for delivery in the fall of 2021.
Source: HammerHead Trenchless