IceStriker™ 2000-3300 SSA/SSC Salt Spreader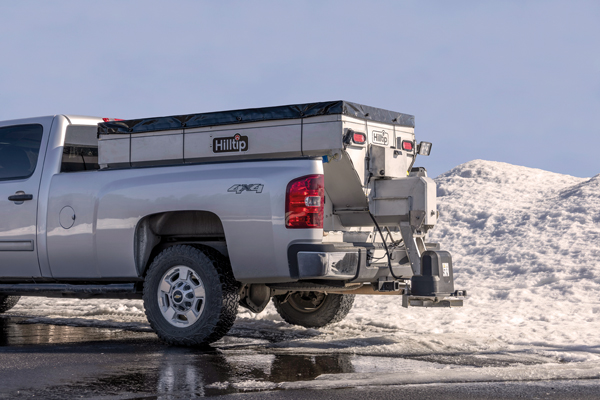 Hilltip announces its new IceStriker™ 2000-3300 SSA/SSC stainless-steel salt spreaders, designed for use on 3/4-ton trucks. These new electric-powered spreaders provide new capacity and material options for Hilltip's innovative IceStriker technology, which contractors can use to spread bulk sand and gravel, bulk/bag salt, sand-salt mixes and fertilizers.
Powered by either 12- or 24-V dual motors, the IceStriker™ 2000-3300 SSA/SSC salt spreader line includes 3 models with capacities of 1.5, 2.0 and 2.5 m3. The modular hopper bodies and all mounted components are constructed of stainless steel, which helps prevent rust and corrosion.
The high quality 12-gauge, stainless steel hopper body facilitates smooth material flow. Material delivery is further optimized by an inverted V with a vibrator to help prevent bridging. To provide consistent material flow to the spinner, the SSA version includes a 15 cm, stainless steel, 3-pitch auger, and the SSC version is equipped with a 31 cm pintle chain system. All models include a stainless steel flip-up chute designed to spread salt in environments with high humidity, and a tarp kit to help keep spreading materials dry.
StrikeSmart™ controller comes standard with all IceStriker 2000-3300 SSA/SSC spreaders, providing users the unmatched ability to either manually set a fixed auger/chain speed or have the material spreading rate automatically adjusted according to vehicle speed.
For maximum control and observation of an equipment fleet, all IceStriker spreaders come standard with Hilltip's exclusive HTrack™ tracking software.
Additional accessories include LED lighting, chute extension, and 15 cm or 31 cm stainless steel side extensions for more coverage.
Source: Hilltip Corp.