LineWise TLL-500A Series 3 Triple Line Lifter for Subtransmission Applications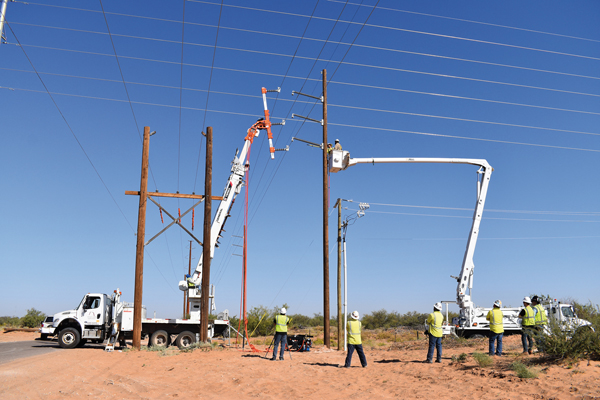 LineWise has introduced its TLL-500A Series 3 Triple Line Lifter for subtransmission applications. Designed to support 3 phases of energized conductors between 34.5 kV and 72.5 kV, the product features all-new hydraulic articulation, allowing operators to easily rotate phases up to 90° from horizontal to vertical orientation while servicing subtransmission lines. It also includes hydraulic cylinders to extend and retract the outer phases.
The TLL-500A Series 3 has been specifically designed to work with large digger derrick trucks, such as those provided by Terex, Elliott and Altec. It includes 3 lightweight polymer insulators that are rated for 34.5 kV or 72.5 kV to hold the phases. The product has a maximum load capacity of 215 kg per phase.
Exclusive to the new Series 3, the phases can be hydraulically rotated from a horizontal to vertical orientation. The outside phases can also be extended to a maximum overall span of 4.8 m or retracted to a minimum overall span of 2.4 m. This feature allows the 3 phases to be positioned anywhere from 1.2 m to 2.4 m apart. Wear pads are installed within the assembly to maximize service life. A radio remote allows operators to control all hydraulic functions while working in a bucket.
The hydraulic power unit comes standard with the Series 3. It features a 7.5-hp gasoline engine with electric start and provides 2,600 psi at 15.1 l/min. A convenient transportation skid with fork pockets comes standard for easily loading, transporting and storing the unit. The transportation skid also makes mounting the TLL-500A Series 3 to the digger derrick or boom truck crane much easier.
Available add-on options include fiberglass insulators and a crane adapter to allow crews to use this product with boom truck cranes.
In addition to the TLL-500A Series 3, LineWise also offers a Series 1 and Series 2 to meet the needs and budgets of various operations. The Series 1 features manual pin adjustment of the insulator sliders in 76 mm increments. The Series 2 offers up to 762 mm of insulator travel via lead screw assembly, allowing linemen to extend and retract phases by using an impact driver.
LineWise is a division of Diversified Products. The company designs, engineers and manufactures a full line of utility products, including line lifters, insulated work platforms, phase lifters, transmission temporary conductor supports and the Buddy Bushing transmission hardware reinforcement system.
Source: Diversified Product Development